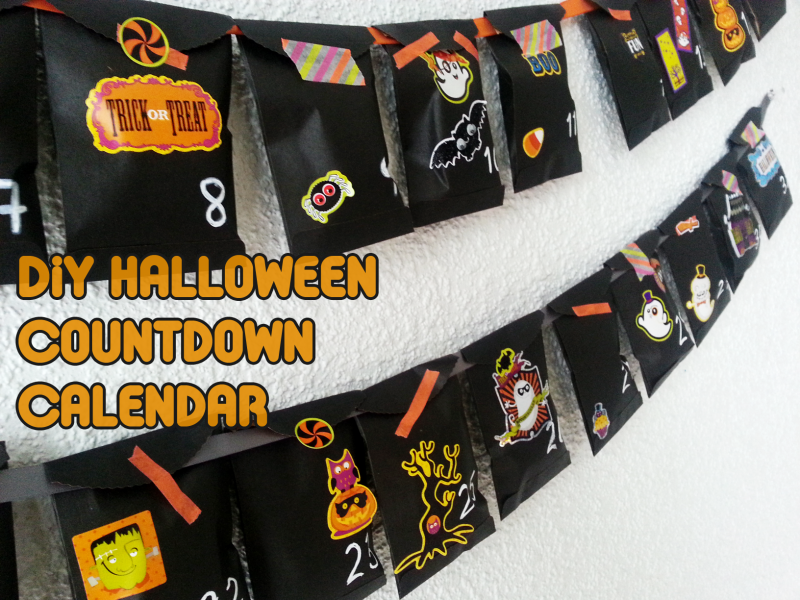 Making a Halloween advent calendar has become a yearly tradition with me and Mitch now! It needs to involve stickers, candy and only an average level of adorability, it needs to have a mans' touch too you know. This year we made our advent calendar a bit late. Between moving, and school, there has been zero time for fun projects like this. We actually made our calendar this morning, before we finished packing, deep cleaning and finally handing over the keys to our apartment. I'm crazy. I know. I work well under pressure, what can I say? But it had to happen before October 1st! There's no way around that.
For this year's calendar I purchased some little black envelopes from Michael's (after seeing
this link
on pinterest <3), as well as 62 small candies (one each for the 31 days). Well, actually more than 62, a lot more - to cover snacking and quality assurance purposes. But that's besides the point. I also got another pack of fun halloween stickers that matched the ones we had left from last year. Everything else I had on hand already!
To make an advent calendar of your own you'll need:
stickers
candy
washi tape or small stickers
ribbon
pens, I needed white to write on our black envelopes
31 small envelopes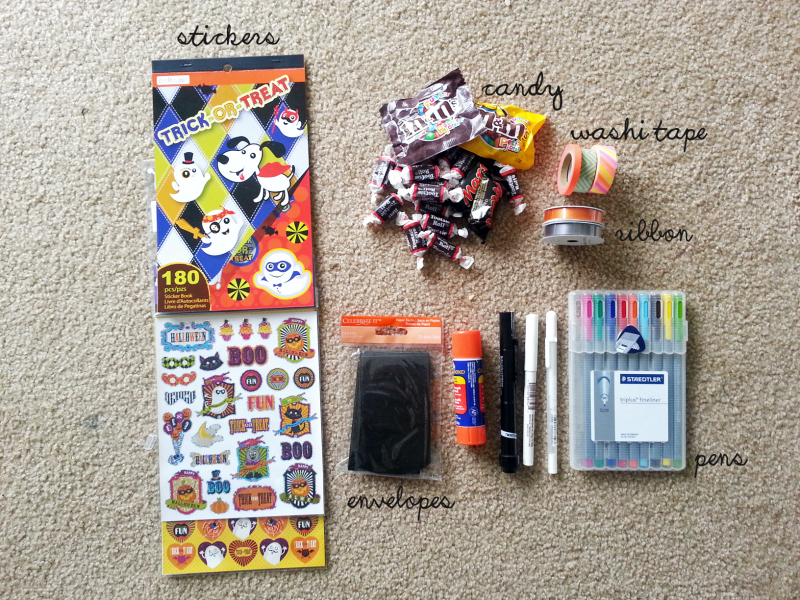 (There is glue pictured here but we didn't actually use it)
We started by numbering all the envelopes. Then decorated each one with stickers. We slid notes into 4 of the envelopes (one's that would be on weekends) suggesting a fun seasonal activity. We did this everyday last year for our christmas advent calendar, and it was really fun!
When all the envelopes were fully decorated we added 2 candies to every one, thank goodness these little envelopes could fit them! It ended up being a tight squeeze but it worked out very well!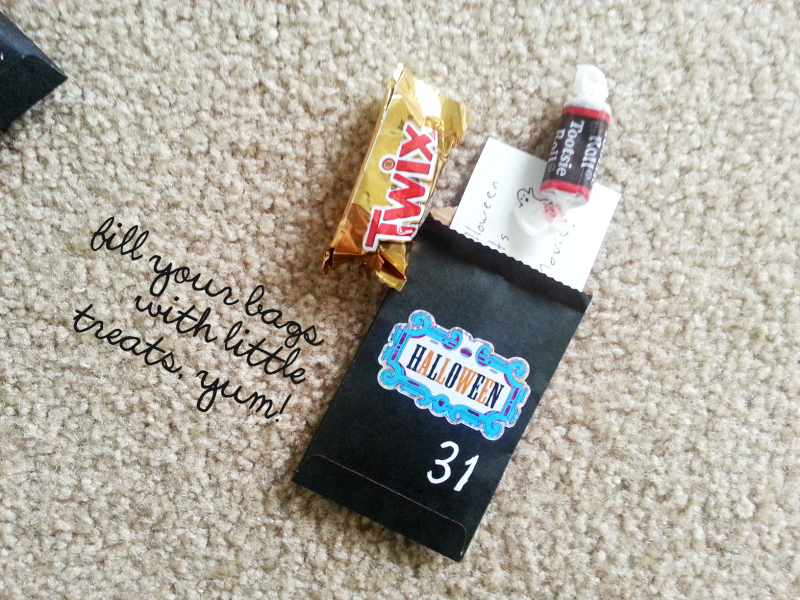 When all the bags were stuffed we lined them up on the floor in two rows and slipped the ribbon under the flaps of the envelopes, securing each one with washi tape or a sticker. If your stapler is not already packed away in a box somewhere, I'd recommend using that instead. The tape didn't hold well on some bags, stickers seemed to work fine though!
Ta-Da!! All finished and on the wall for 10 minutes to admire and photograph before it was packed into a shoe box for safe travels.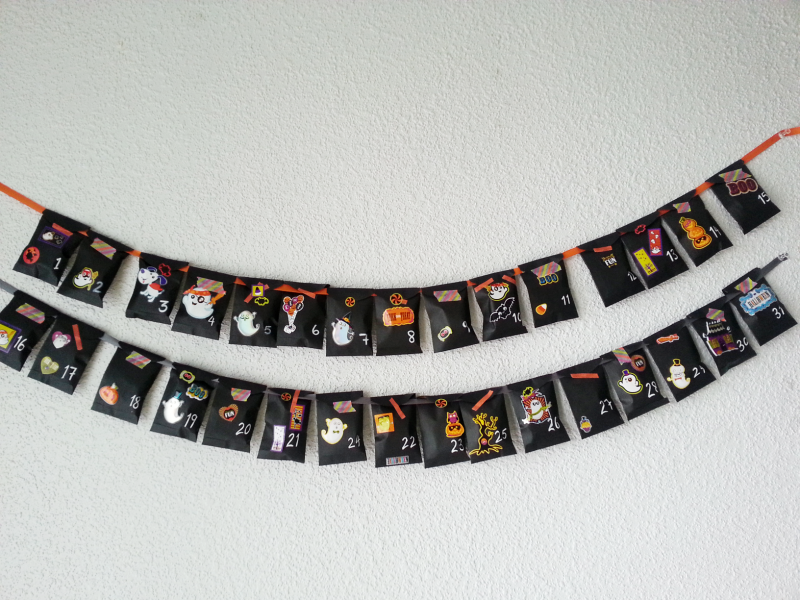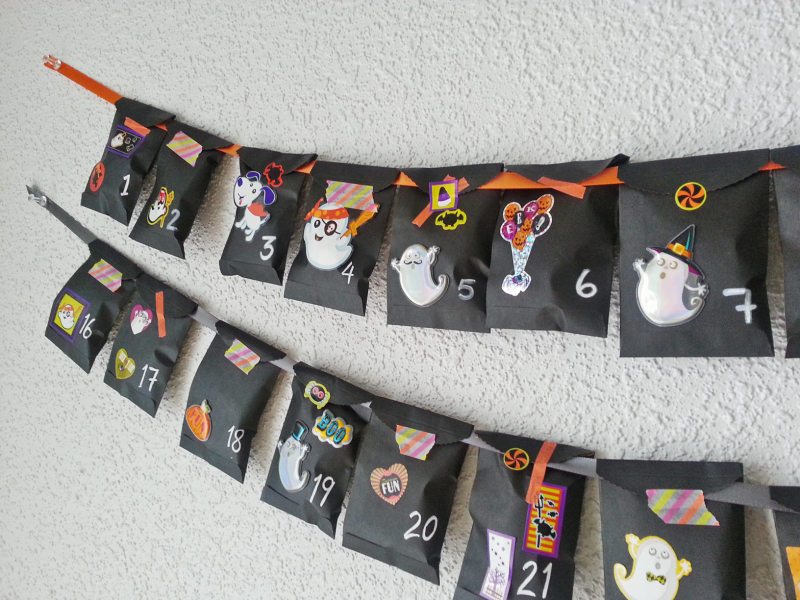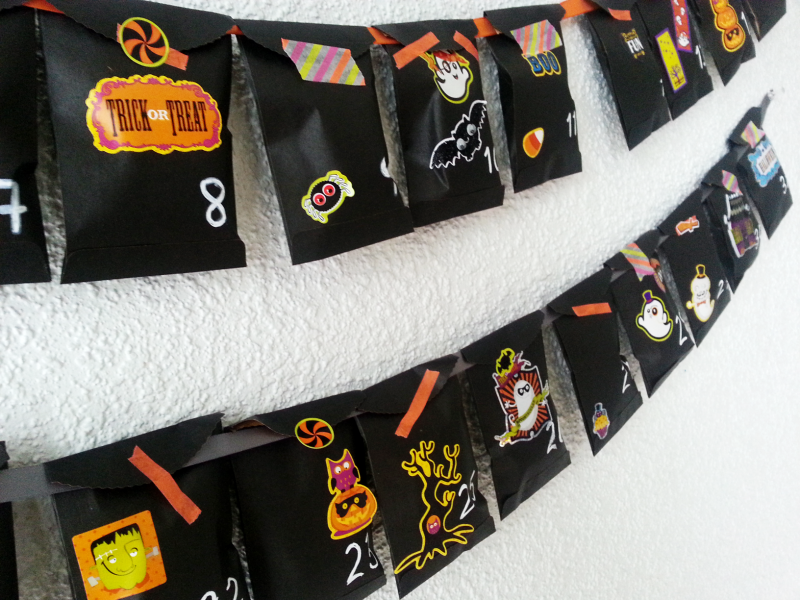 A candy a day until halloween! Sounds like a good idea to me, especially as someone who will not be trick-or-treating, haha!
ps. see our last year's Halloween calendar
here
!