I've been getting really interested in different cocktails and mixed drinks lately. Normally the staple drink at our place is a whisky sour, my favourite. But i've been branching out a lot with different bitters and syrups - it's a lot of fun! I feel like a chemist or... a bartender.
Second note: Birthday Cake flavoured everything has been taking over everything in food land and the kitchens of Pinterest lately. I wanted to be able to add that warm, buttery, vanilla scent and taste to basically just my whole life. So... by putting 2 and 2 together, I made Birthday Cake Simple Syrup!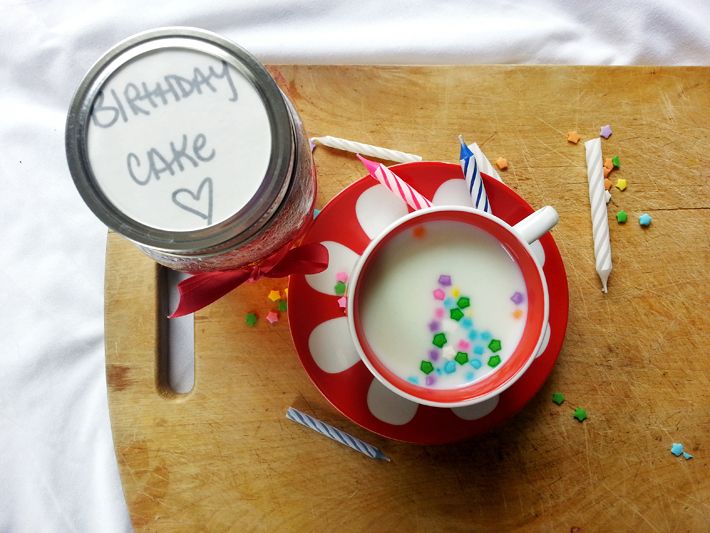 I don't know if it's quite perfect, but it's pretty sweet, AKA delicious! It smells perfect, just like buttercream frosting!
There are so many things you could try it in! Iced Baileys, hot chocolate, steamed milk (yum! That's how I've been drinking it), vanilla ice cream, milkshakes, soda water, coca cola (vanilla coke anyone?)
Fair warning, I added this to regular coffee this morning. No. They don't mix. The bitterness of the coffee and the sweetness of the syrup were just not a good combo for my taste. Maybe just because it was 7am. I'd imagine it to be great in a latte though, or a mocha.
INGREDIENTS & DIRECTIONS
1/8 cup brown sugar, lightly packed
3/8 cup white sugar
1/2 cup water
1 1/2 tsp pure vanilla extract
1 tsp butter flavouring


Bring water and both sugars to a boil in a small saucepan. Once boiling, add vanilla and butter flavouring. Let boil until sugar has completely dissolved and you are left with just liquid. This only takes a few minutes. Take saucepan off heat and let cool. Transfer to a container once cool. This recipe makes about 1/2 cup of syrup.
If there was a flavour you could bottle what would it be? cookie dough next!? Caramel?! Chai!? oh my!