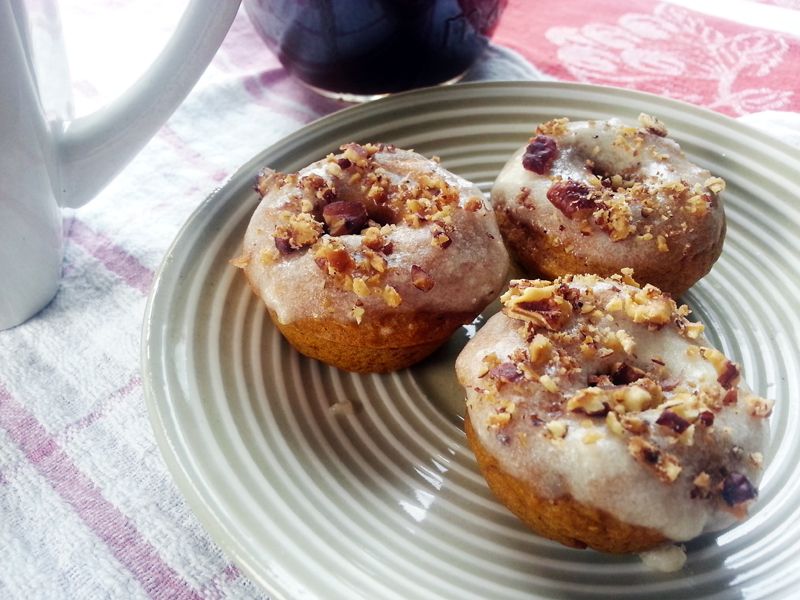 I'm the type of girl who heads straight from the gym to the store to buy chocolate bar molds. We're talking direct route. When I can't find chocolate bar molds, I'm the type of girl who leaves the store with a mini doughnut pan.


There are a few tough decisions in my day to day life. Standing in Michaels in sweaty workout wear, seriously conflicted between regular size or mini size doughnut pans is a tough choice for me. I mean, all I want is a chocolate bar mold! The decision was so trying, I actually put the pans down and walked out. I got back in my car, I drove five feet, I stopped, I realized my life really did need a doughnut pan. No regrets. Zero buyers remorse. It was fate.
In other news, late-night ingredients shopping results in excess pureed pumpkin, a variety of bulk nuts, and whipping cream meant for the chocolate bars you know you aren't even making anymore. Wishful truffles maybe?
My Dad described these doughnuts as "a doughnut, a cookie, a cake, it's like everything. Those nuts really do it, man."
They're tasty. But don't just take his word for it, (I don't really know what that means anyway). Try making them yourself!
It starts with the essentials: flour, spices, brown sugar, brown butter, good vanilla and the all-important egg.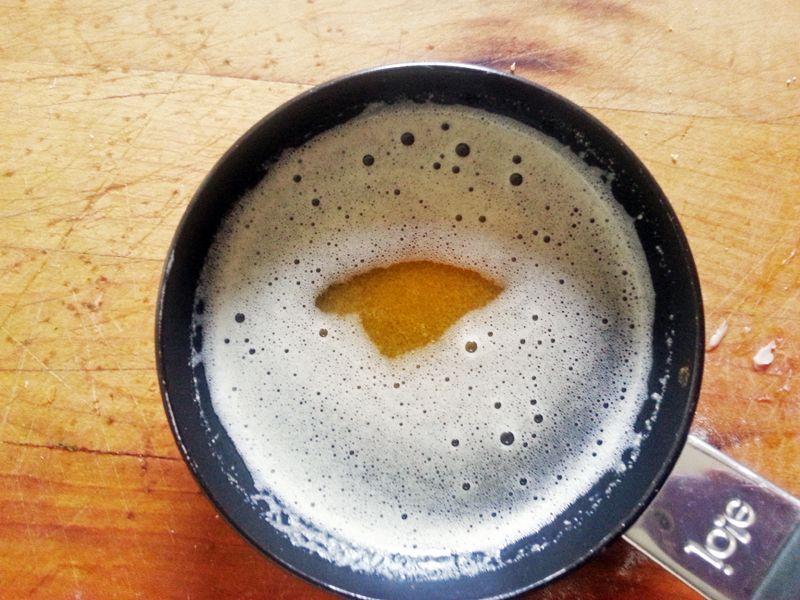 This is brown butter. Butter cooked slowly on the stove until it carmelizes. It smells delicious, and looks like gold. More later.
add the wet to the wet, and the dry to the dry.
and put it all together to make this mess!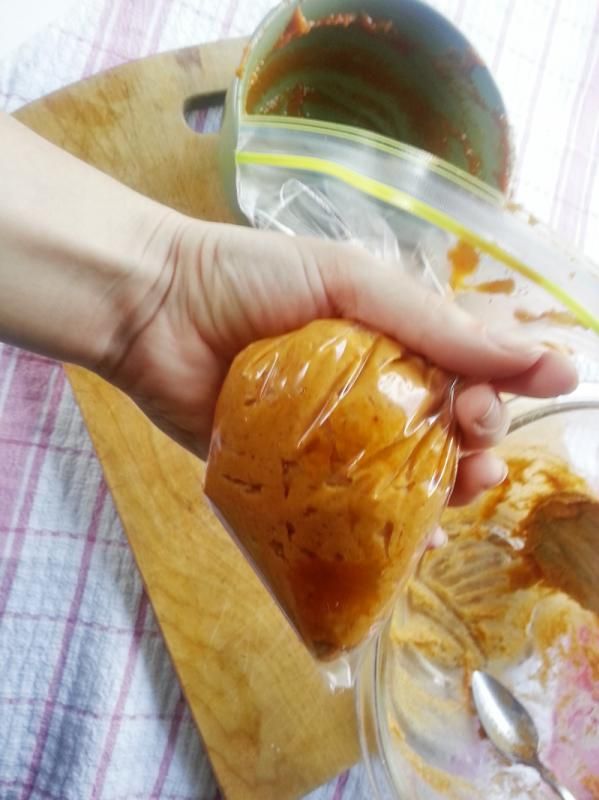 Pipe your dough into the doughnut pan. Any other way is just too darn messy. I tried.
Look! there they are!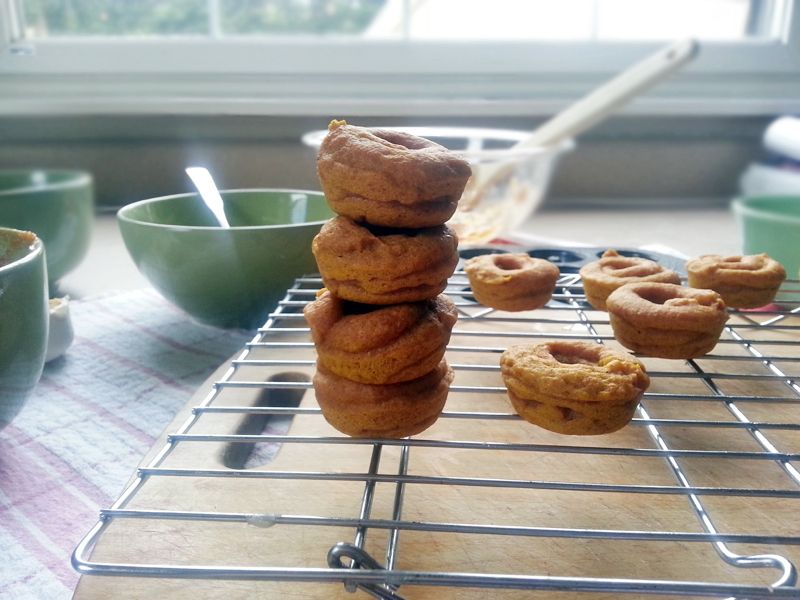 They stack!
They glaze! aka they look delicious...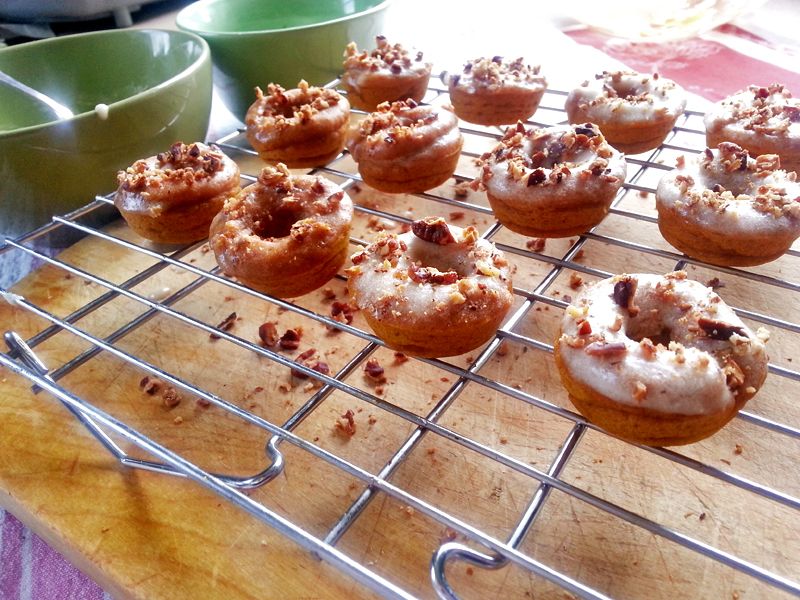 Maybe some toasted pecans for good measure? Yes.
Ingredients + Recipe
(adapted from Tracy @
Shutterbean
)
makes 24 mini guys
1 cup flour
1/2 tsp baking soda
1 1/2 tsp cinnamon
1 tsp ginger
1 tsp nutmeg
1/4 tsp salt
1 cup pureed pumpkin
1/2 packed golden brown sugar
1 egg
1/4 cup brown butter
1 tsp vanilla extract
glaze
1/4 cup toasted pecans, very finely chopped
1/2 cup icing sugar
1/2 tsp vanilla extract
2 Tbsp browned butter
3 tsp milk
Preheat oven to 325 F and spray your pan with cooking spray.
Start by measuring out 1/4 cup + 2 Tbsp of butter. Melt the butter in a small saucepan over medium heat on the stove. (For this step I use a very small pan meant for frying a single egg, it works perfectly!) Butter is done cooking when it smells nutty, and golden brown particles have appeared in a layer on the bottom, and is "frothy" on top. Remove the butter from heat. If you're nervous, it is much better to remove the butter too early than too late. You can always brown it more but you can't do anything with it once it's burnt! So watch carefully! I'm still learning this myself.
Whisk together the flour, spices, salt and baking soda in a large bowl. In a different bowl whisk together pumpkin, sugar, egg, 1/4 cup of the brown butter, and vanilla until smooth. Add the wet mix to the flour mix (this step is important. I forgot to add the flour the first time I made these. Flourless doughnuts don't cook very well, trust me. They just look like dog poop and make you feel dumb.) and stir until it all just comes together.
Spoon the batter into the corner of a ziplock bag and cut the corner off. Pipe the batter into your doughnut pan, you can fill them pretty well to the top.
Bake for 9-11 minutes, or until the doughnuts have risen and have slight spring-back action. They should come out of the pan very easily onto a wire rack in only a few minutes. while they're baking is also a great time to toast your pecans!
To make the glaze combine the icing sugar, vanilla, milk and remaining brown butter in a small dish. You want a slightly runny glaze that can drizzle. Add more milk only a few drops at a time if you need to thin the consistency.
Dip the doughnuts in the glaze and top with the pecans, yum!!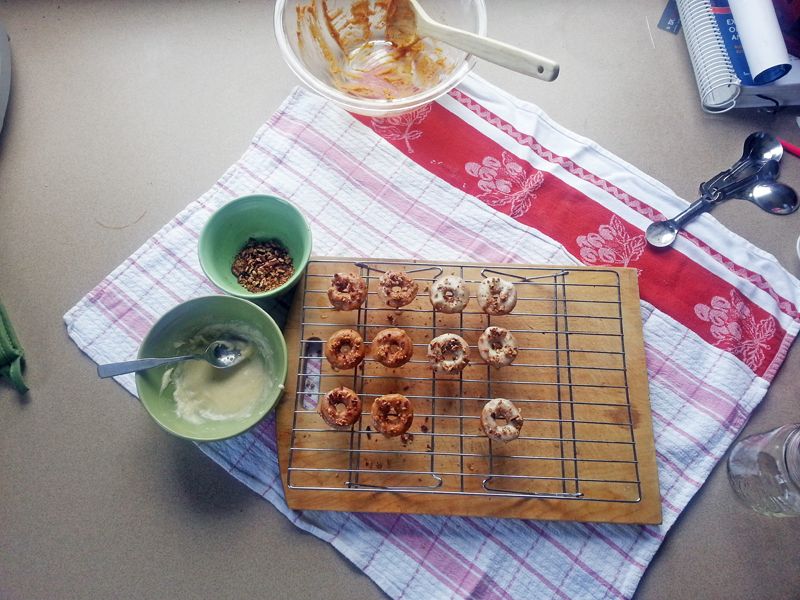 These doughnuts keep well until the next day. (they may keep longer but I wouldn't know, oops!)
fun tip: Dipping the minis warm will allow the glaze to "melt" into them, making a real glazed doughnut. Dipping them cooled will let the glaze "set" on them more, leaving more of an icing. Equally delicious!