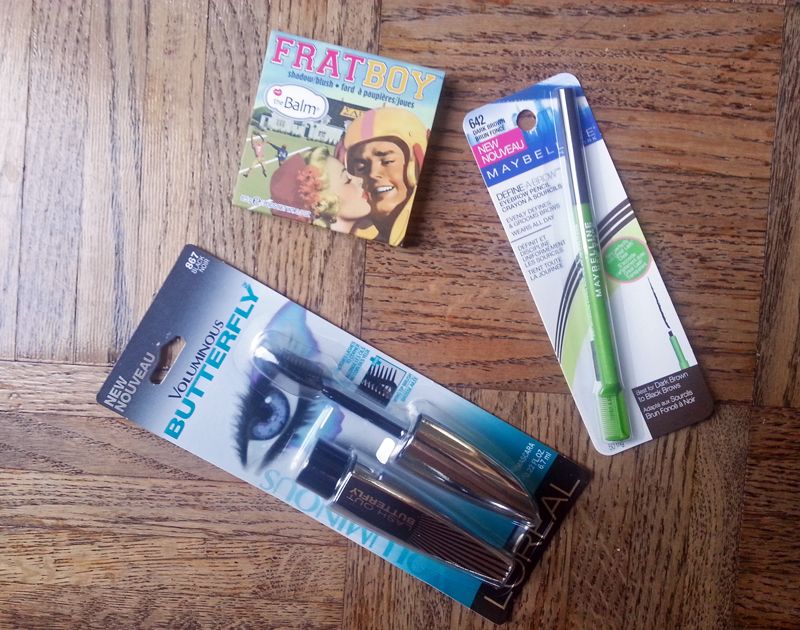 In case you didn't know, one of my favourite pass times/ mood lifters/ guilty pleasures is makeup shopping! A few weeks I ago picked up these goodies. All on a whim, sales much? And I'm not kidding, they've all become new favourites!
As a mascara Junkie, I always have about 4 in my rotation. I picked up this new
L'oreal Voluminous Butterfly mascara
, honestly, because I was eavesdropping on what the sales lady was telling another customer about it (shameless of me..). I'd never heard of it before that. It's fantastic! The brush is totally different from any other mascara I've used before (it has a hole in it!) but it works well and really does give that "winged out" effect.
There was a sale on TheBalm cosmetics, so I clearly had to grab something. I picked up the
Frat Boy blush
, it's a great pigmented pink shade, and I really like it as a replacement for my poor Physicians Formula - Blushing Rose, which I can't travel with because the packaging is broken into non-existence... sad times.
(I failed to take a picture of the shade, duh. Take a peek!)
The thing I really went in for was an eyebrow pencil, and I decided to give the new
Define-a Brow pencil
a go from Maybelline. I chose Dark Brown. I'm not very picky with Brow pencils, at all. I like this one because of how thin it is, It offers a lot of control, plus you don't have to sharpen it, bonus!! Because the pencil is so thin however, it can be a bit finicky to twist up, but nothing major.
Do you have any new makeup favourites lately? I love hearing reviews of products, send them my way!