Have you ever gotten an idea in your head, out of nowhere, and felt the need to act on it like right away? It could be anything. Maybe you saw a puppy being walked down the street, and your heartstrings were pulling you in the direction of the SPCA all day. Maybe you got an ice cream craving at 11:30 at night, and had to, had to, drive to the nearest 7-11 for a tub of Ben & Jerry's. In your sweats. You may have even seen Spencer from Pretty Little Liars in a particular top then spent the next hour scouring the internet for a duplicate. We've all been there. Right?
After thinking about peanut butter and popcorn, my brain wouldn't turn off. I needed to have it. And I needed to make it work, right then. There was no leaving the house until it was done. Thank goodness I had all the ingredients I needed. Manic ideas like this do not react well to hurdles such as the grocery store.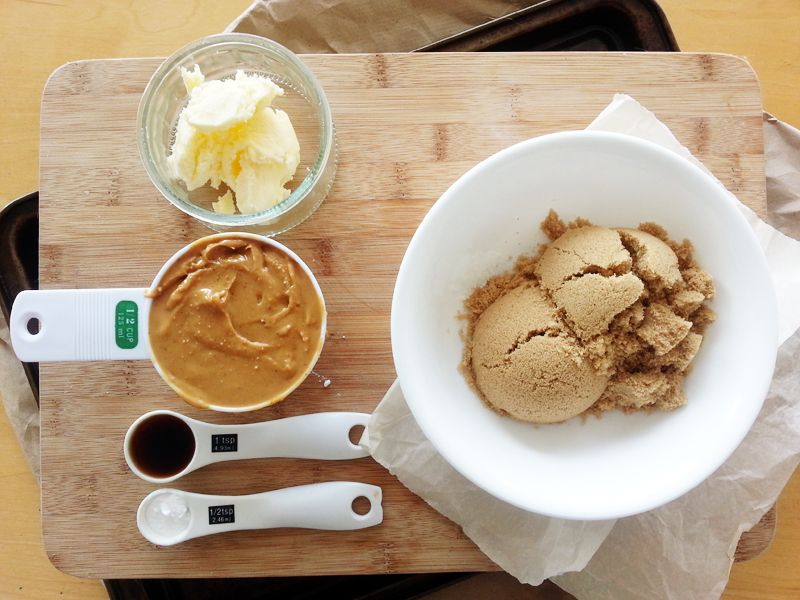 This is everything you need!
Oh wait! Popcorn! Now, you have everything you'll need, phew. That was close...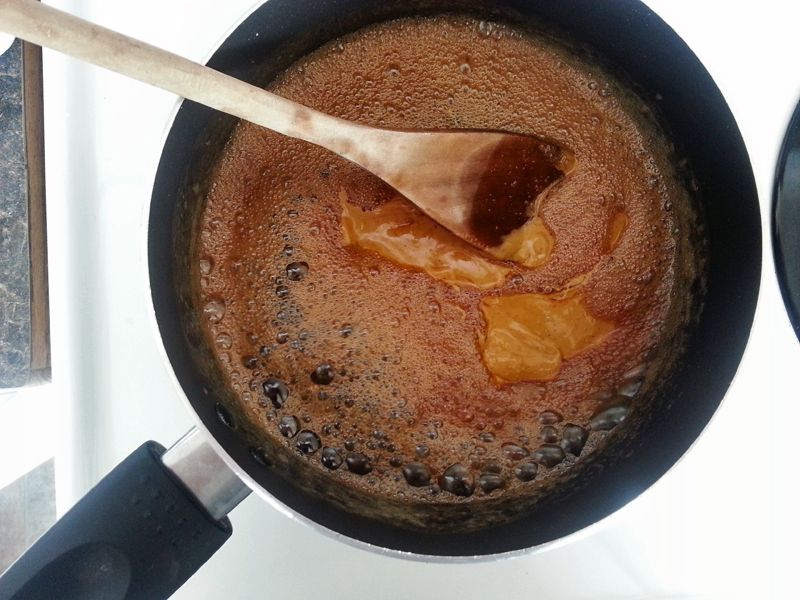 We're going to make everything into a sweet and sticky hot mess that is known as caramel sauce (without a drop of corn syrup!) There will be, however, a huge dollop of peanut butter. Now we're talking!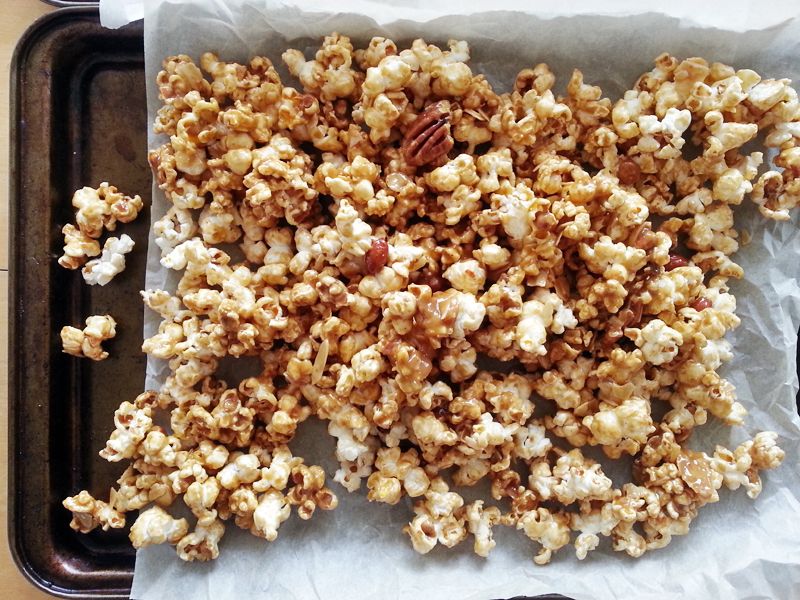 Hot out of the oven. Almonds, peanuts, pecans and all. I may have gone a bit nut-crazy on this recipe. I do what I want.




This popcorn is ultra crispy, not too sweet and, has the perfect caramel/peanut butter ratio. The texture is not totally caramel; the peanut butter takes over in that department, making it a nice change from classic caramel corn.




Ingredients & Recipe
1/2 unpopped kernels, prepared and popped
1/2 cup water
2/3 cup Brown Sugar
1/2 tsp Salt
3 Tbsp Butter
1/2 tsp Baking Soda
1 tsp Vanilla
1/2 Cup Peanut Butter
Prepare your 1/2 cup of kernels as per
this recipe
, or your preferred method, and set aside.
Preheat your oven to 250 F. and line two baking sheets with parchment paper.
On the stovetop, in a medium sized pot combine the water, brown sugar, and salt. Boil to a caramel - until there are no visible crystals and the mixture has thickened a bit.
Add the butter and stir until it is completely incorporated. The caramel should be thicker at this point, not too runny, coating the back of a spoon. Because there is quite a bit of water in this sauce you may need to let it boil for a bit longer than you'd think, just keep an eye on it. It'll work itself out.
Remove the pot from heat and add the vanilla and baking soda. The baking soda will make the mixture froth so mix vigorously until it has settled again.
Add the Peanut Butter and stir until it is completely incorporated, you may put it back on low heat during this part. I even cooked mine for a bit longer at this point, to thicken it a bit more.
Add your peanut butter caramel to your large bowl of popcorn, as well as any nuts you would like to add. I added 1/2 cup of raw pecans, peanuts and almonds. Mix everything thoroughly and coat all the popcorn pieces. Be very careful! Caramel is hot!! Spread the mix onto the two baking sheets and cook for 45 minutes, rotating the pans and agitating/turning the popcorn halfway through cooking.
When the popcorn is done, and completely cooled it will be no longer be sticky or shiny. The only way I can think to describe it is like the coating on cheezies or doritos - only caramel and nutty!
If you have the patience to let it cool then good on ya!
Popcorn will keep for 3 days in a covered container. Mmm, treats for days.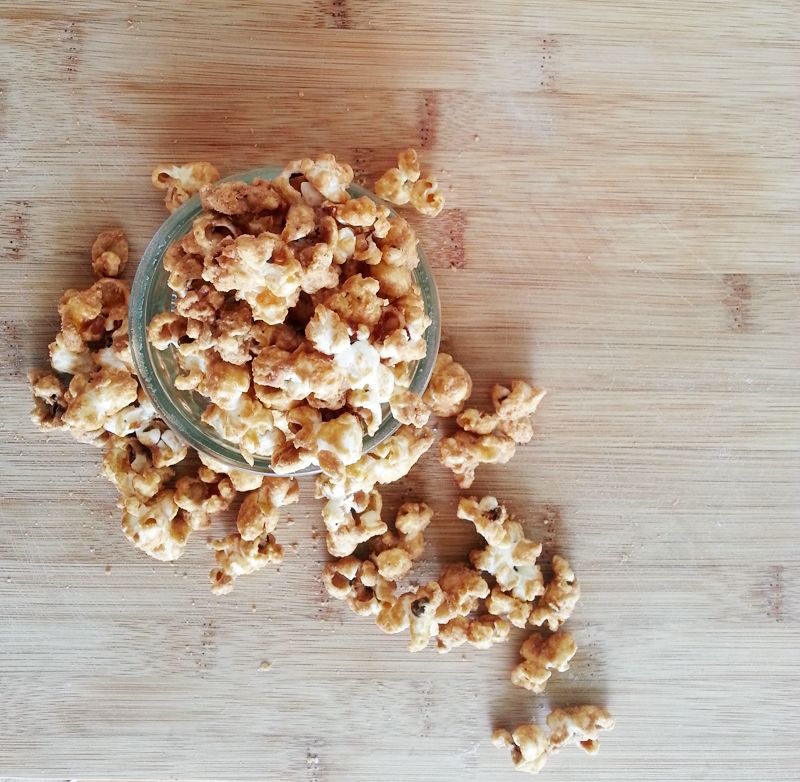 Crispy, cooled and sooo delicious!!
Don't forget, next week I'll have another delicious way to cook up some ultimate snack treats! It's like popcorn-mania