I don't know "simple" I can keep calling these syrups considering they're a lot more than just sugar water, but they're so easy!! I made this gingerbread syrup with bourbon and sweetened lattes in mind. It smells warm and slightly spicy. Because of the heavy dose of molasses my whole kitchen smelled like cookies when this was simmering!
This recipe is very simple to the
pumpkin spice syrup
I made in the fall. I swapped pumpkin puree for molasses and tweaked my spices, heavier on the ginger obviously.
RECIPE & INGREDIENTS
1 cup water

3/4 cups white sugar

1/4 cup brown sugar, packed

2 cinnamon sticks

1/4 tsp nutmeg

3/4 tsp ginger

1/2 tsp cloves

2 Tbps molasses
Put the ground spices into a loose-leaf tea bag. Heat all ingredients in a small saucepan on medium high heat until all sugars are dissolved and syrup begins to boil. Continue heating on medium-low heat for 5-7 minutes longer. (Watch your molasses doesn't boil over or burn.)
Remove the tea bag, squeezing out any excess flavour before you discard it. Pour syrup into a bottle or jar and let cool.
Store in the fridge and use for whatever you can think of! Yes, direct spoon-to-mouth consumption and ice cream sundaes, totally acceptable.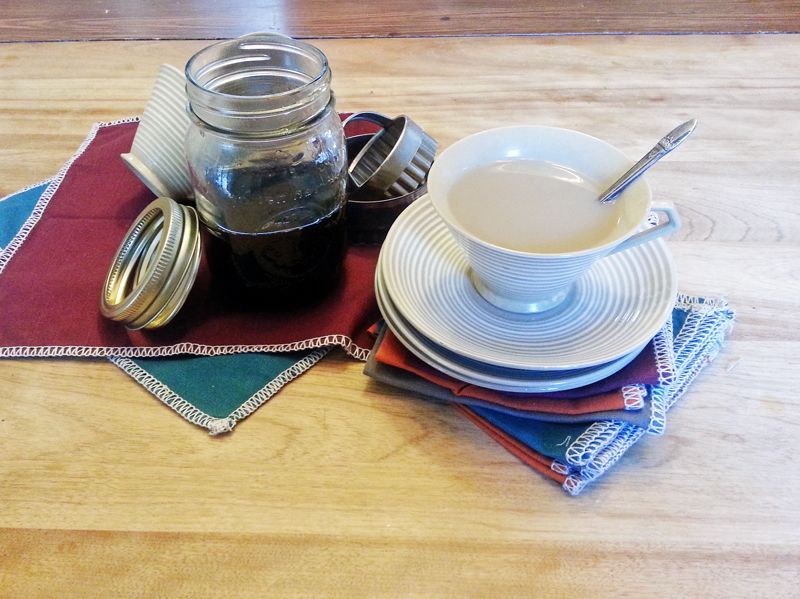 I'm getting quite the collection of syrup jars going in my fridge, I love adding them to my coffee before I run out the door for work, they always make my day a little bit sweeter! Cheesy joke, I don't even mind.