I'm going to start by saying this: I don't like salsa.
At least I never liked salsa until I had salsa from this tiny Mexican restaurant in Nanaimo called Gina's. Now I crave salsa and live nowhere near Nanaimo. So I decided to make my own.
I wanted it to be bright red, with just the right amount of cilantro and heat, with minimal chuncks. Chucks are what turned me off of salsa in the first place. I didn't know there could be un-chunky salsa! By making the salsa myself I can decide exactly the chunk ratio I desire, like practically none.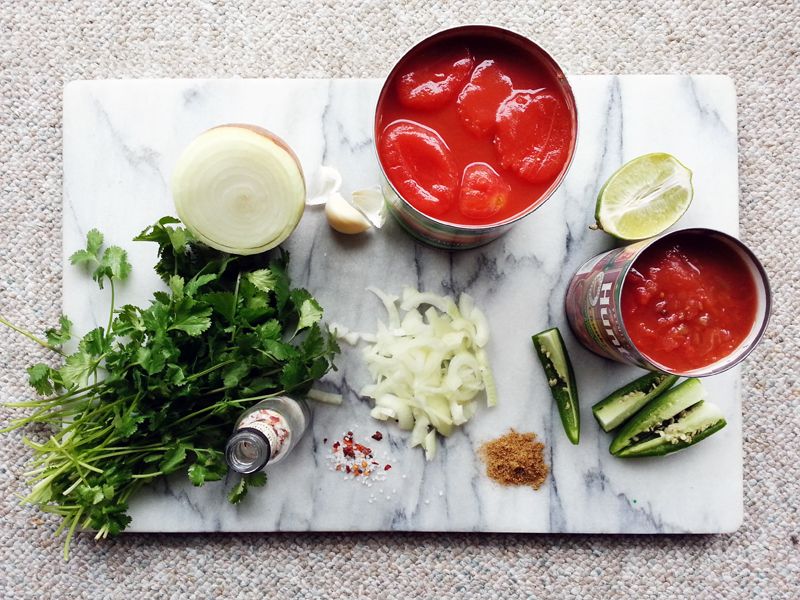 I'm going to go out on a limb and say, salsa is pretty much the healthiest dip/snack/condiment you can ever have. It's a glorified tomato salad put in a food processor. If we looked into it, it would be maybe, zero calories? Probably zero. I'm saying zero.
I mean all that's in it is tomatoes, peppers, herbs, and citrus. Garden things!
It's delicious, it's fresh, it's healthy, it's vegetarian, heck it's vegan! It's a party food to boot! So many positive things, to think I didn't used to like this stuff!
I don't have a photo of the finished product mostly because salsa is really difficult photograph looking appetizing. Let's just be honest here. Props if you can do it. I tried. But I mean, everyone knows what salsa looks like.
Recipe
adapted from The Pioneer woman
1 can (28 oz) Whole tomatoes
1 can (14 oz) Diced Tomato with added peppers - I used Hunt's Tomatoes with Green Pepper, Celery & Onion
1/4 cup of chopped white onion
1 clove garlic, minced
1 whole Jalapeno pepper, quartered and most of seeds removed
1/4 teaspoon sugar
1/4 teaspoon salt -

I used chili-sea salt, for fun.

1/4 teaspoon ground cumin
1/2 cup cilantro
juice of 1/2 a lime
Put all these things in a large food processor and pulse until you get the consistency you desire. Adjust flavours as desired as well. Refrigerate at least an hour so the flavours can mingle and taste even better!
Store in a large mason jar and keeps for about a week.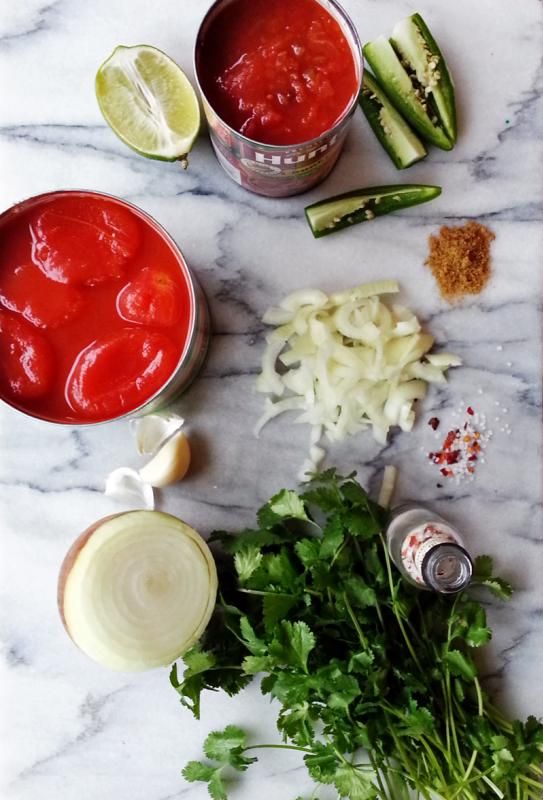 This was a lot of salsa! Especially for just the two of us, but we went through it in under a week by way of: excessive snacking, mexican wrap night, savoury waffle night, and last night's pizza party where we contributed a mexican chicken-fajita pizza complete with homemade salsa-pizza sauce, avocado, and sour cream drizzle. We rightfully won best presentation, I'm proud to say.
I will probably never buy salsa from the store again after how easy and delicious this was. Do you have any homemade recipe alternatives you swear by?