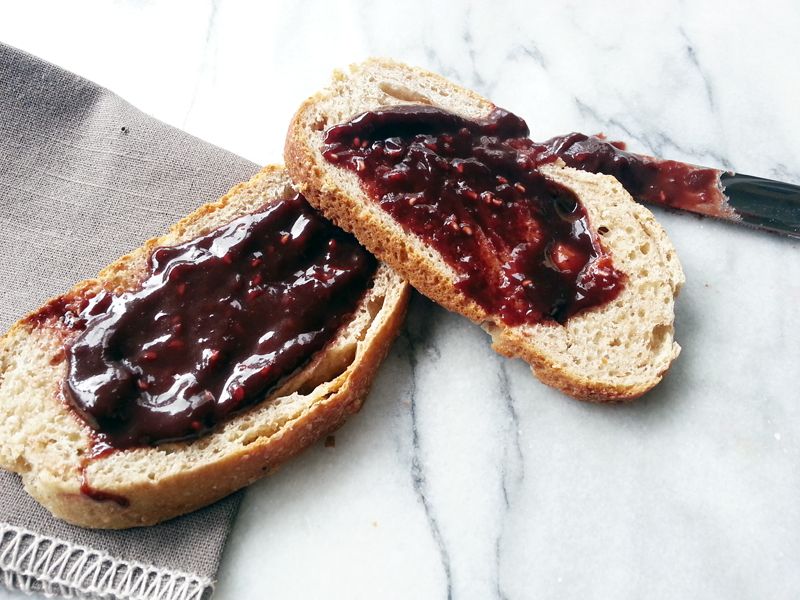 The problem with making something like chocolate raspberry jam is that you end up with more than you actually need, because really, you never needed it in the first place. I have a lot of leftover jam. Easy, I thought, I brought a jar for the tea party hostess. I still had leftover jam, and cookies, Darn.
I sent some to Mitch's office. That took care of the cookies...
But I still have more of this delectable jam! Shoot. What do I do?
I've been eating it on homemade whole grain bread for breakfast. mmmmm.
I've been stirring it into greek yogurt for dessert, yummm.
I've been sneaking spoonfuls when I'm home alone, shhhh.
Now I'm sharing it with you! Yaay!
Now what else could we do with such a concoction?
You might think it sounds like a dessert topping, it could be! It's sweet, and smooth enough to use as a syrup on ice cream. I could just imagine how heavenly this would be layered between moist chocolate cake. Pipe this into a doughnut and you'd be talk of the town!
But jam is a breakfast food first! Slather this on a croissant or scone for sunday morning brunch, omigod. A spoonful of the sweet raspberry filling on a yogurt parfait? Stop. Chocolate and raspberry in combination with rich cream cheese on a toasted bagel, whoa, you're breaking my heart.