So that was March huh? It went by like nobody's business. I can't even think of too much that happened in march. But that's dwelling on the past, it's not March now. it's April, Bunny season!
I also have to say if anyone's noticed my lack of online participation and made the connection that it's exam time then 4 for you Glen Coco!
**Something exciting did happen! If you read my
February Faves
you know I was on the hunt for a vanity type situation... I found one! At Target! on clearance! It's perfect! (I'll be planning a makeup organization post just as soon as I get everything the way I want, and find myself a chair, lame but true.)
My favourites for March have been mostly scent and convenience based. An interesting combination but that's the way it goes.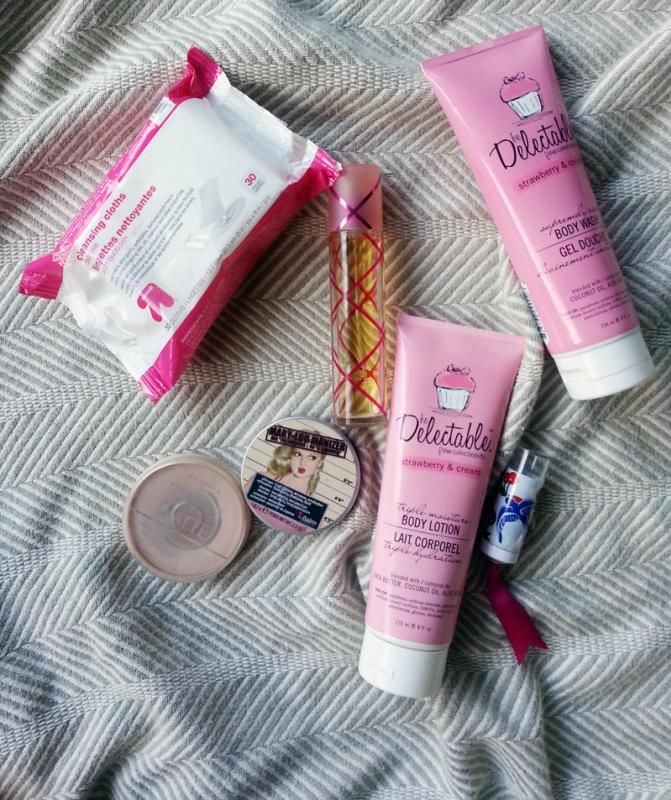 Up & up (target brand) Cleansing cloths
Pink Sugar perfume
Rimmel Stay matte pressed powder in 003 Natural
TheBalm Mary-Lou Manizer highlighter/shimmer/luminizer
Hard Candy Lipstick in 200 Fire alarm
Cake Beauty's Be Delectable triple moisture body lotion and body wash in Strawberry & Cream
The cleansing cloths have been awwweeesome lately because honestly, I've been too lazy to properly wash my face. I'm terrible, I know. I'm a bad example. But seriously, These cloths came in a 2-pack (meaning 60 of them) for very cheap. If you ask me, their worth it, haven't broken me out and clean my face well enough to go to sleep.
The Rimmel stay matte powder, Mary-Lou manizer, and Hard Candy Lipstick have all been working very well together lately. It's been a great routine along with whatever bb cream/blush combo I've gone with that morning.
I've saved the best for last. The Be Delectable line by Cake Beauty has become my new obsession! It's actually, no joke, the best thing I've smelled in... years. I got the same excitement smelling this body lotion as when I first smelled Thierry Mugler's Alien perfume in '09 (that's meant to be slightly humorous, but at the same time completely truthful). Imagine a creamy whipped strawberry dessert that makes your entire bathroom smell like your washing yourself with angelfood cake. Mitch says it makes me smell like Campinos. Fine by me. It's made with coconut oil as well which is a plus in my books with my sensitive skin. I'll be doing a post on the whole lien soon, they're a new long time favourite for sure.
I just spray Pink Sugar, an old standby, on after for ultimate sweet scent.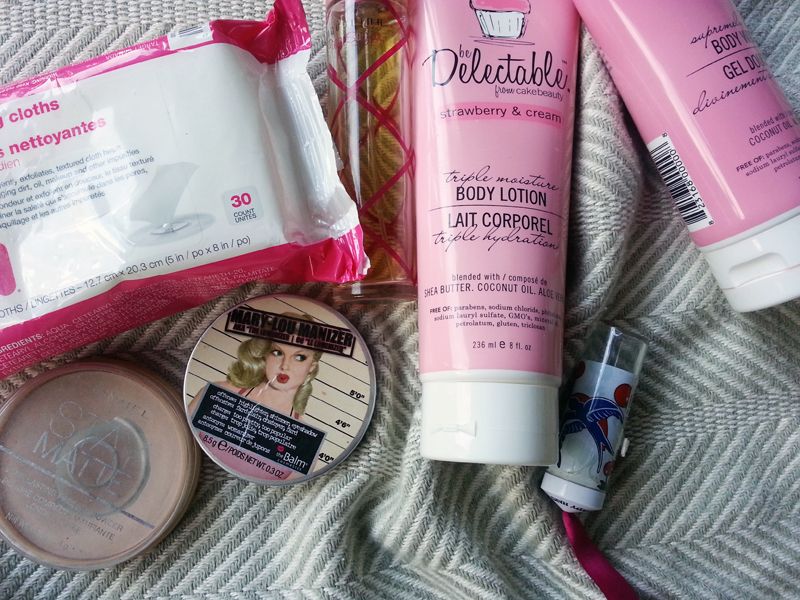 What were your faves this past month?