I think I called these Morning Buns for a few reasons. First, cinnamon buns, although we do eat them for breakfast occasionally, we all know thats a terrible thing to do. But Morning buns, whoa! they're meant to be breakfast! Revolutionary.
Second, these buns are made with multigrain flour, that's good for you flour. hearty and filling breakfast treats. (catching, my logic?) Third, these gooey little buns are also made with way less sugar than regular cinnamon buns! Did I mention too, the filling is made from delicious caramelized-sweet dates!? If you don't already know the amazingness that dates possess, you need to give this recipe a go.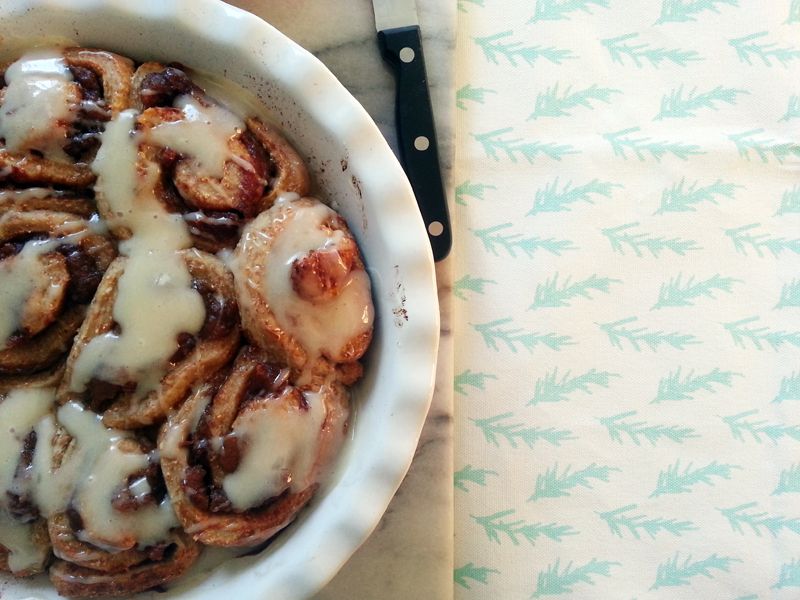 These breakfast rolls are far heartier than your average cinnamon bun. Not that any cinnamon bun can truly be "average". The filling holds a rich, salted caramel flavour with a kick of warm cinnamon. And the Multigrain dough gives them a slightly more buscuit-like texture. If your scared by the words "cinnamon" and "bun" in the same sentence let me comfort you by saying right now: No Butter. None. And less than four Tablespoons of sugar in the whole dang recipe. That's probably less than you put in your morning coffee, amiright? Let's make healthy better for you Cinnamon buns!
A little pre-baked goodness.
Ingredients & Recipe
Dough:
1 1/2 Cups Almond Milk
3 Tablespoons Coconut Oil
3 Tablespoons Brown Sugar
A Pinch of Sea Salt
1/2 Teaspoon Brown Sugar
2 1/4 Teaspoons Yeast
1/4 Cup warm water
2 Large eggs
5 Cups Multigrain Flour (white would work as well, for a fluffier, more traditional bun)
Filling:
approximately 20 dates, soaked in water for at least an hour
1/2 cup of the water used to soak the dates
sea salt
1 Tablespoon Cinnamon
1 Tbsp Brown sugar (optional)
To make the dough
: Warm the milk in a saucepan and add the coconut oil, sugar and salt. Stir until everything is dissolved then remove from heat. You don't want anything to boil just warm enough to let everything mix together.
Dissolve the 1/2 teaspoon of brown sugar in the warm water then add in yeast and let the mix stand for about 10 minutes.
In a very large bowl combine the milk mixture, eggs, and yeast mixture. Add 2 1/2 cups of the flour and beat that for about 7 minutes. With a wooden spoon,mix in the remaining flour 1/2 a cup at a time.
Turn the dough onto a floured surface and knead it by hand until it is smooth. (this took me a long time, and ended up adding in more flour)
Grease the mixing bowl and return the dough to the bowl. Let the dough rise for an hour, covered with a warm damp tea towel, or in a warmer space.
To make the Filling
: Blend the soaked dates, along with 1/2 cup of the reserved water, in a food processor until smooth.
To Put it all together
: Roll the dough out to a 9x13 inch rectangle and spread your date filling onto the dough. Sprinkle with the cinnamon and an optional sprinkling of brown sugar. Roll the dough, from the longest side, into a log. Grease a large pie pan or 9x13 inch baking pan, and sprinkle the bottom with cinnamon.
Cut the buns into 14 pieces, and place into the greased pan. Let rise for an additional 30 minutes or more. At this point you can preheat the over to 350 F.
Drizzle or brush the top with additional coconut oil, mixed with date water (or water and vanilla if you've tossed it already) to keep the buns from drying out as they bake. Bake for about 25 minutes or until browning on top.
before...
before...
after, mmmmm.
What's a guilty morning treat you wish could be a liiiiitle bit better for you?