This is a recipe that sparked from not wanting to go grocery shopping twice in the same day. Does anybody ever want to do that? But I really wanted something healthy, new, and different to eat. Enter carrot falefels.
I'm not sure how they can really be called falafels considering there's no chick peas in these guys at all... But they're shaped like falafel! And they fit well into pitas!
I had originally wanted a raw lunch (that wasn't a salad, so boring to me lately), but like most unorganized people, I don't have 6 hours to spare or a dehydrator to crisp food for me - so oven it is!
This recipe is actually (
very
) heavily adapted from a recipe in the book
Choosing Raw
, a link to the original recipe can be found
here
. Seeing as a I had very few of the recipe's ingredients (I basically got as far as "I have carrots. I need to use them up.") this was a bit of a (successful!) adventure.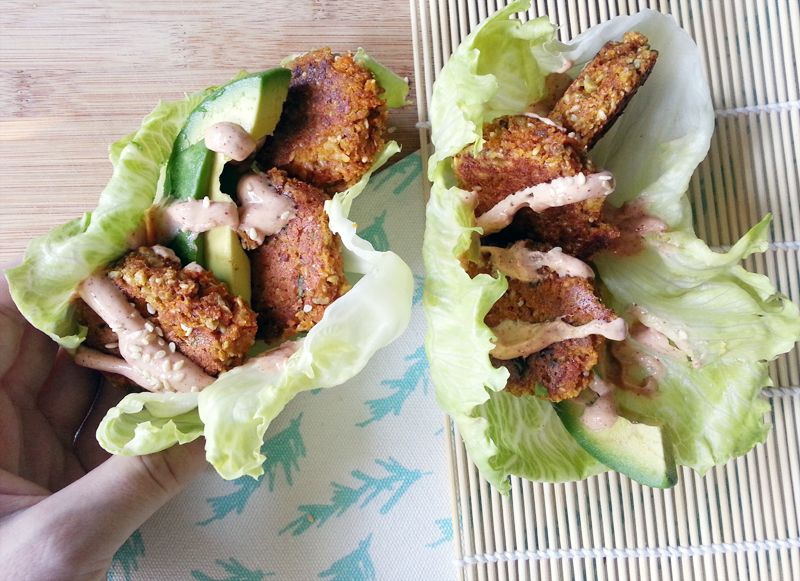 Ingredients & Recipe
makes about 12-15 falafels
1/4 cup of sesame seeds
1/4 cup sunflower seeds
1/2 cup tahini
1 1/2 cups of finely grated carrot
2 Tablespoons of onion, finely chopped
2 teaspoons of apple cider vinegar
2 Tablespoons of chopped pecans
1/4 teaspoon cumin spice
pinch of salt
1/4 to 1/3 cup water
1/4 cup fresh parsley
2 Tablespoons chopped green onion or chive
Preheat the oven to 350 degrees F.
Pulse sesame seeds, sunflower seeds and tahini in food processor until it all forms one paste. Add grated carrot, onion, apple cider vinegar, pecans, cumin, salt and some of the water. Mix on low, stopping to scrape the sides as needed, until it gets as smooth as you think it will get. If the mix is too crumbly to deal with, add in water a bit at a time until you are satisfied.
Add the fresh parsley and chives and pulse until well combined.
Form the dough into small balls or patties and place on a lightly greased or parchment paper-lined baking sheet. bake for about 7 minutes, then flip and cook for another 5 or so. You don't want any of them too brown.
Serve in pitas, in salads, in lettuce wraps, or as a side. They're surprisingly versatile! I garnished mine with green onion, sesame seeds, avocado and chipotle dressing - flavour for days!
These will keep for 4 days in the fridge, or can be frozen raw and cooked at a later date.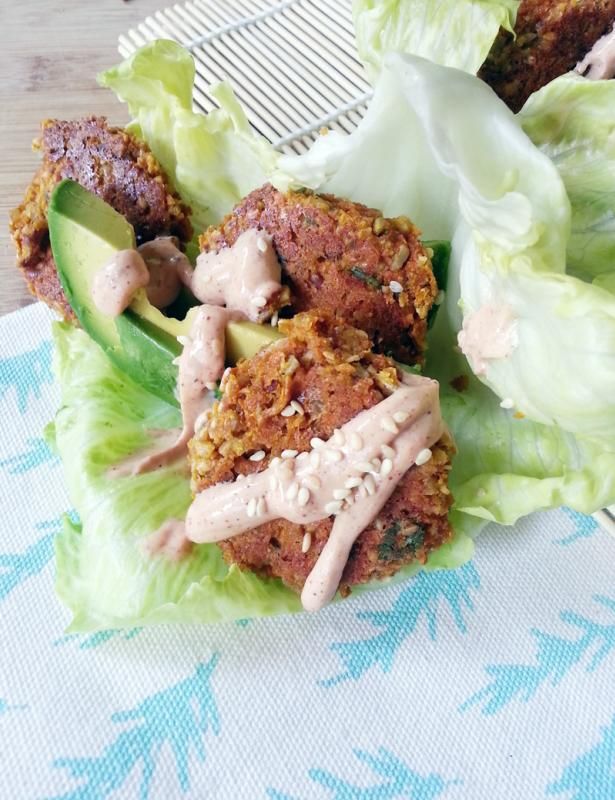 If you make these please let me know know they turned out, or how you made them your own!