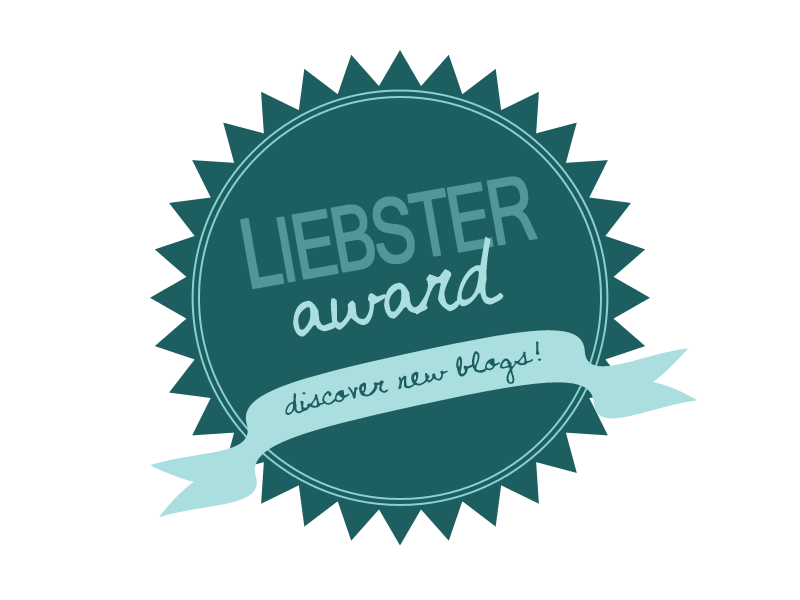 On Saturday, Rachael from
Broomfie
, made my day by "nominating" me for a Liebster Award. Now, I had no idea what a Liebster Award even was, but I won one! My first ever blog award! After reading her post and Q & A sesh I got even more excited. This is an opportunity to reach out to other bloggers and find new blogs to read!
I also did a little research of my own and found out "Liebster" is a German word meaning dearest, lovely, cute, valued, and other wonderful things! How nice is that!
The Rules are:
Post eleven facts about yourself.

Answer the eleven questions provided by the person who nominated you & create eleven questions for the next group of nominees.

Nominate 11 people and link them in the post.

Let your nominees know they've been tagged - and no tag-backs!

Nominate blogs under 200 followers.
My Facts:
I am 23 years old and my Birthday is in January.
I am a certified bartender, although I have never worked at a bar in my life. It just happens to be a very fun life skill.
I was an Irish Dancer for 8 years (through my childhood/teenage-times).
I love comic books! my favourites being Fables, Amazing Spider-man, Batgirl, and Morning Glories.
The first real job I ever had had was working in a fine china, tableware, and glass shop. I was fifteen and I knew my china patterns better than any Grandma out there!
As a child I had a huge stamp collection. I was quite the little

philatelist. I even started a stamp club at my elementary school.

I have an irrational fear of aliens. especially of them

abducting

me in my sleep.

I have lived in the same city my entire life. And at this time in my life I can't see myself wanting/needing to move for a very long time, if at all.

I love working retail - especially the science of retail, and visual merchandising. If I could have a career as a visual merchandiser or retail buyer, I would be very happy.

I've had 11 pet cats in my lifetime. 0 dogs.

I am absolutely dreadful at any form of team sports. I actually homeschool'ed my way through high school PE because I hate them so much. Although I love being active! Just let me do something with a personal challenge/goal.
Rachael's Questions:
If you could do any job in the world, what would it be?
My biggest dream is to one day own a bakery or cafe. I can spend hours imaging every aspect of my future shop.
Would you rather live in one place for the rest of your life to have to move somewhere different every year?
I would rather live in the same place forever. I like feeling comfortable in my surroundings.
Who would be included in your ultimate festival line up?
Good question! I've seen some of these artists play festivals before. But to see all of them play a festival together would be insanely awesome! Vampire Weekend, Band of Skulls, Alt-J, Lights, Vance Joy, Mother Mother, The Lumineers, Weezer, Beyonce (you know, just for kicks).. I know I missing some awesome bands too.
Where is your favourite place to go in your hometown?
I instinctively took this as restaurant, so my favourite restaurant is Mo:Le, especially for breakfast.
Where do you see yourself in 5 years?
ohhh, questions like this stress me out! I

realistically

see myself at the same company I'm currently at, with a promotion from my current position. In the same apartment we currently live in but with a savings in the works for purchasing our first home - contently happy and comfortable. I dream-see myself with a very small, very successful bakery on a busy street downtown, selling fresh cookies and

gourmet

marshmallows

to my favourite

regular

customers.
What do you prefer: TV box sets or movies?
TV series. Watched in binge sessions. on Netflix.
What is the best gift you have ever given and why?
Before one of my best friends went on an extended trip to Japan, I created a whole fill-in-the-blanks type scrap book. It was full of tasks and writing prompts she was to complete while she was there and illustrations I had done on every page. There was space for photos of each "challenge", or space to put

mementoes. Some of the challenges were silly, and of course lots of inside joke type tasks!There were serious ones like what was the most incredible thing did today? who do you miss? What did you learn? what words did you speak?

It was the first time I had ever had a close friend go away for a long period of time. I wanted to send her off well, and give her something to remember her trip for a long time to come.
What is your favourite book?
Of all time. Harry Potter and the Order of the

Phoenix

.
What is your favourite shop?
Aw man, I don't know! I love checking out different bakeries for breakfasts on the weekends. I don't really have a favourite shop. Maybe Forever21?
Where do you get your inspiration for your blog?
Most of the time it's something I'm doing in my everyday life and I realize "oh hey, I can expand this into a blog post". Wether that's food, a project at home, or even running an

errand -

Like my Simplest of Simple posts. Or getting something / going somewhere new always makes me want to blog about. Then obviously Pinterest and other bloggers. But I try and stay away from that when looking for inspiration to avoid accidentally copying ideas.
What beauty product can you not live without?
BB Cream. All day. Every day. I wish I had flawless skin - not the case.
I nominate:
My Questions for you!
How long did you think about starting a blog before you actually did?
what is your favourite restaurant?
What is your favourite makeup brand?
Are you an indoor or an outdoor person?
How do you wear your hair on a day-to-day basis?
If you had to move, where would you want to live?
Would you rather have spaghetti for hair or linguini for legs? This is important.
What does your perfect day look like?
What is your favourite or go-to midnight snack?
Who or what inspires your personal style?
Is there anything you consider yourself a master at cooking, or making in the kitchen?
Thanks again to
Rachael
for tagging me for this award! It was a lot harder than I anticipated, but so much fun!