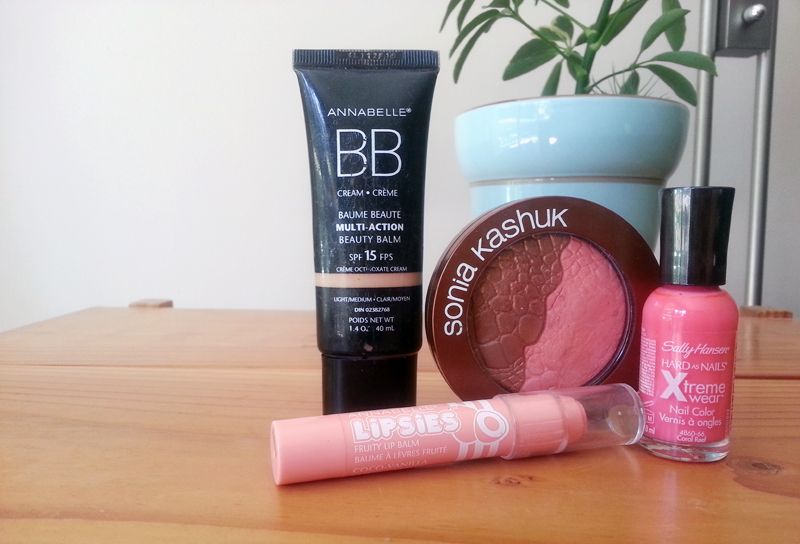 Do you ever have a period of time where you need to commit to being ultra-thrifty? We're talking minimal spending. That was me in July. To make it fun, I called in
no-buy-July.
So fun right? Right... as goofy as that sounds, it really does work.
This meant no new makeup. Which isn't a big deal really, as I have more than my fair share. I got to shop my drawers! or whatever you call it when you use really old things that you already own.
I've been unintentionally veering away from foundation and only using BB cream lately. Mostly due to the summer weather we've had here. Which has been super-awesome as it's one less step in my morning routine, the weather is ho-o-o-t-t, and it means my skin is behaving well enough that I can get away with no foundation!
I've been loving the
Annabelle multi-action BB cream
(in Light-Medium) because it has such wonderful coverage and it matches my skin tone really well. Bonus: SPF 15! I'm nearly done this bottle! Which will be a repurchase for sure.
I've been using the
Sonia Kashuk bronzer/blush
duo in Glow almost every day because the blush is so gorgeous! I just want to apply it again and again and agin. (But then I'd look like a clown so I stick to once a day.) The pink has a shimmer to it but no actual glitter. It just looks like your glowing, and the bronzer is a perfect compliment. I'm able to use it to contour my whole face including my nose; It's not too dark.
For my lips I've been reaching for this Annabelle Lipsie. It's an awesome little crayon balm that's super moisturizing and goes on completely sheer.
And because I've had so much holiday time in july I was able to paint my nails! (I'm unable to have painted nails at work) This
Sally Hansen
Polish in Coral Reef is one of my favourite shades! Especially for summer.
What were your go to products last month? Any new discoveries?