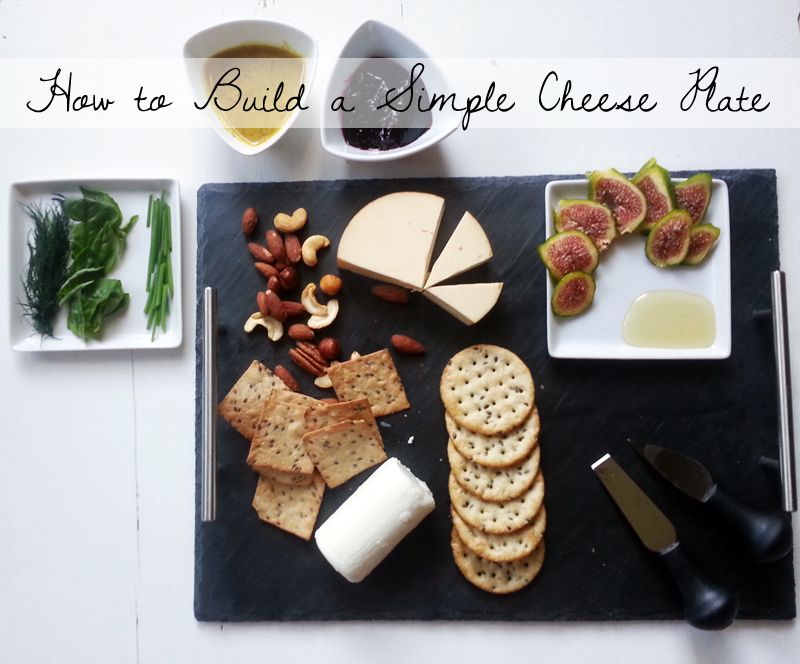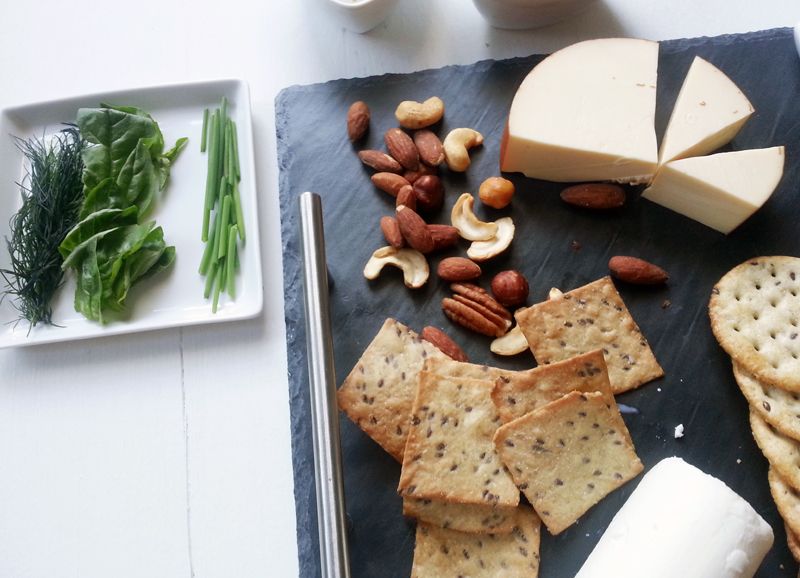 One of my very favourite treats is a nice, full cheese plate. They are so simple to make but offer such a variety of flavours, textures, and tastes. They also are so much fun to build, and really are only limited to your imagination, and what's in your cupboard.
We have them for dinner once in a while. They make for a fantastic at-home-date-night meal! Especially once a bottle of wine is opened.
A Cheese plate is ridiculously easy to prepare but can be awfully impressive if you have the right flavours. Now, I am no expert when it comes to cheese. I can't tell you which region to purchase your gourmet swiss from (switzerland?) Which notes of this will impress you stuffy neighbours, or bites of that are going to go beautifully with that expensive bottle of chardonnay. I couldn't tell you which mouldy cheese is the best kind of mouldy, and all that stuff. I normally purchase my cheese at the regular ol' supermarket. However, going into a cheese shop once in a while can be very fun, and informative. All I know is cheese tastes good! And it's fun to pair and experiment with different flavours. In my mind there is no right or wrong way to do this thing. Okay? Alright, let's go!
Offer at least two cheeses, usually a few more if you have time/budget.
This plate used:
one soft/creamy cheese: a plain goat cheese. But you could also use brie, Boursin cheese, camembert, anything you like.
one hard cheese: smoked gouda (our favourite!). You could also use cheddar, emmental, edam, gruyere, something else fun.
I'd recommend, if your using a smaller selection, that you choose cheeses that have had no additional add-ins. This way, you can add flavours to you hearts content! Stay away from peppered, spiced, pre-sweetened choices. If your adding more cheeses try throwing a blue cheese into the mix too. It's also nice to have a representation of cow and goat cheeses.
you then need a vessel to get the cheese to your mouth. We prefer crackers. Other options could be fresh bread, pitas, cracker chips, or any combination of choices.
Now the fun part! The extras! this is where additional flavours come into play and you get to become a little flavour scientist around the kitchen table. Make sure you include an array of both sweet and savoury choices. Some options include
A crunch: nuts like almonds, walnuts, and pecans are especially delicious. Smoked, candied, or roasted would all add depth to your bites.
A fresh fruit: This plate used fresh figs straight from my friend's garden. Talk about decadent! Try apple, pear, berries, cranberries, mmmmm.
fresh herbs: We'd never added herbs to our cheese plates before but we had them in the fridge so on they went. I loved having them as an option! Our plate included chives, basil, and dill.
spreadables: you can get especially creative here! Condiments I enjoy using are honey, grainy mustards, and jams. Try chutneys, Balsamic vinegars or reductions, or pesto.
odds and ends: cold meats, pepperoni, sea salts and peppers, pickles, olives, there's no end to what you could have really!
These are some of the flavour combinations we discovered with this plate! SHOW & TELL TIME! (That's kind of all the time on blogs isn't it? ...Whatever)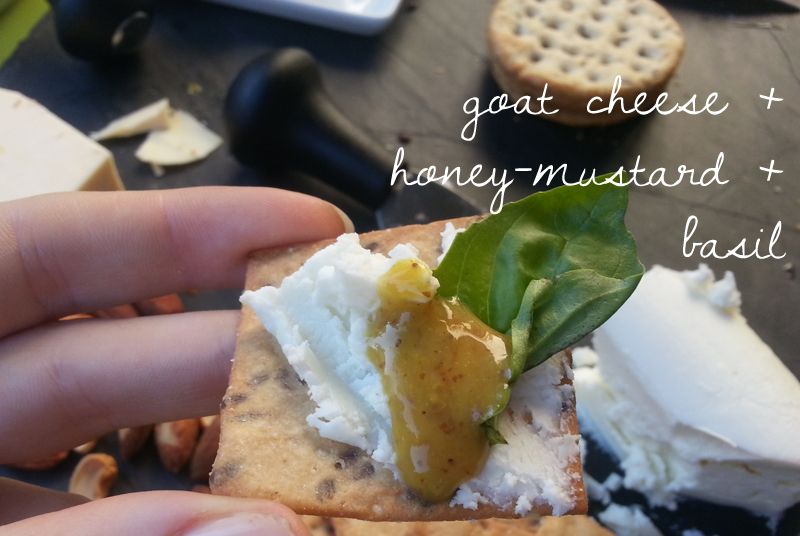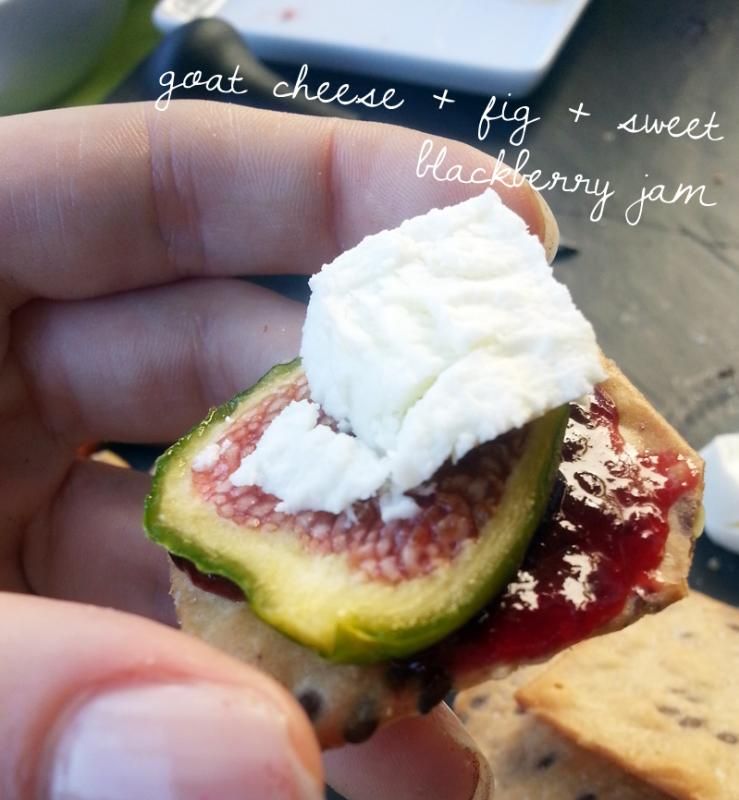 Our cute little patio all set up for enjoying a dinner outside. Super-romantic peek into my life right here.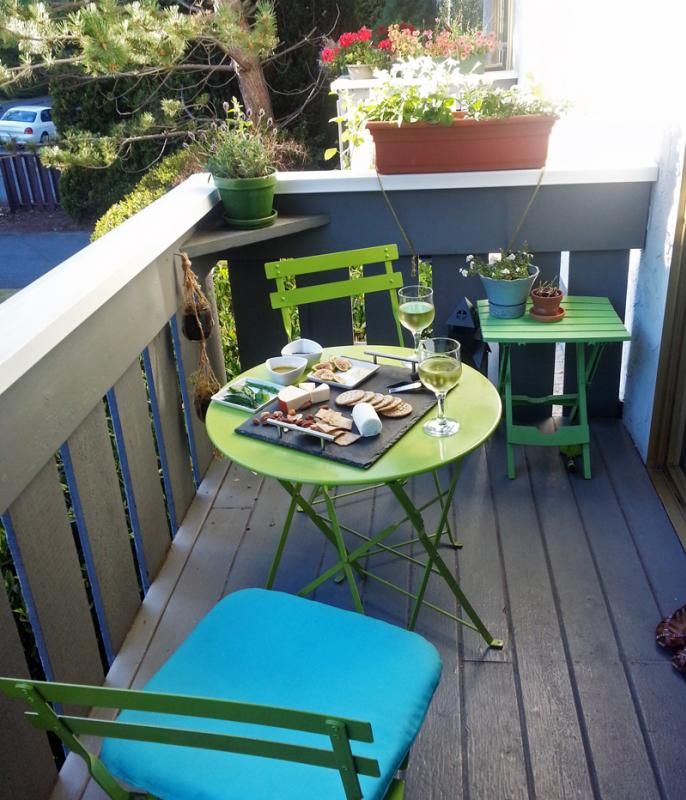 The cheese plate I use is
this one from London Drugs
. It's fantastic because it comes with cheese knives and slate boards for writing cheese names - if you choose to get that fancy, or you know, host a party and actually share your cheese.
If you don't have a legit cheese plate don't worry! a wooden cutting board works wonderfully, or a large plate or serving tray could even double as a cheese plate. Like I said before it's all in your creativity and what you have in your cupboards!
On a whole different note, as someone who's trying to purchase less animal products I've been experimenting with vegan cheese-making! Hopefully my next cheese plate will have some delicious vegan options!
What are some of your favourite cheeses?