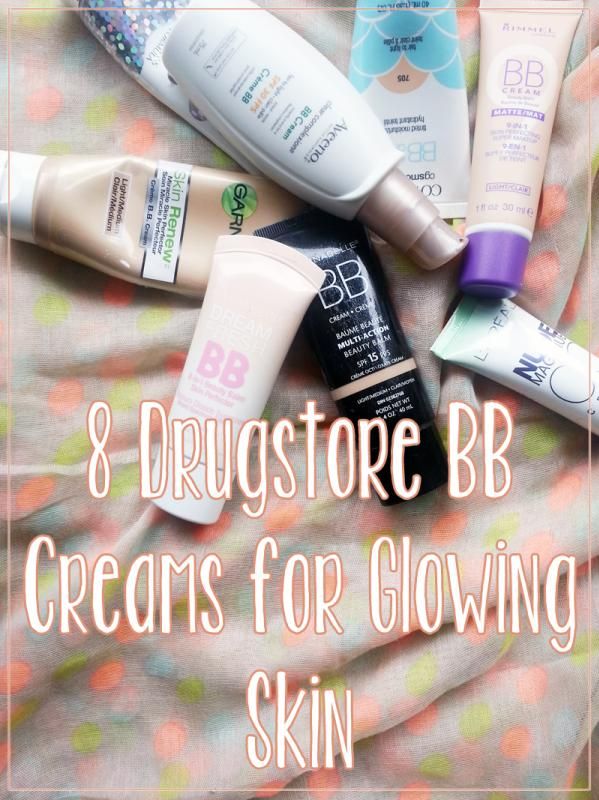 I can safely say, without any shame, remorse, or fear that I am addicted to BB Creams. I have been using a BB cream every day since I stumbled upon the first (to my knowledge) Drugstore BB cream -the Garnier Skin Renew BB cream many years back.
If BB Creams are not something you're familiar with, I'll fill you in. A BB (Beauty Balm) Cream is essentially a tinted moisturizer with lots of benefits for your skin! These benefits can include SPF, evening skin tone, brightening or mattifying the skin, shine control, blemish control, pore minimization, etc, etc, etc, on and on and on.
There are also CC (colour correcting) and DD (I don't even know what these ones do) creams on the market. Double-Letter creams seem to be becoming a huge trend in the beauty industry. Iv'e seen BB body creams, hair masks, even BB hairspray! But i'm not going to get into that...

I use a BB cream every day, whereas I'll wear a foundation maybe half the time, with a BB cream underneath of course! This is a list of the BB Creams currently in my makeup rotation, I do like some more than others but they are all great products with specific pros and cons. As you can clearly see, I'm a drugstore makeup junkie. I also find that a good quality, affordable BB cream can make a high end foundation go a long way!
My usual makeup routine goes something like this: moisturizer, BB cream, concealer, blush/bronzer, powder, eyes. So you can see I like to do a full face of makeup without any foundation. I apply my BB cream with a brush, (specifically the Real Techniques Buffing Brush) and treat it exactly the same way I'd treat a foundation.
Anyways, I ramble, Here we go!
Below I've listed the name, shade I wear, bottle description and benefits, followed by my opinion of the product.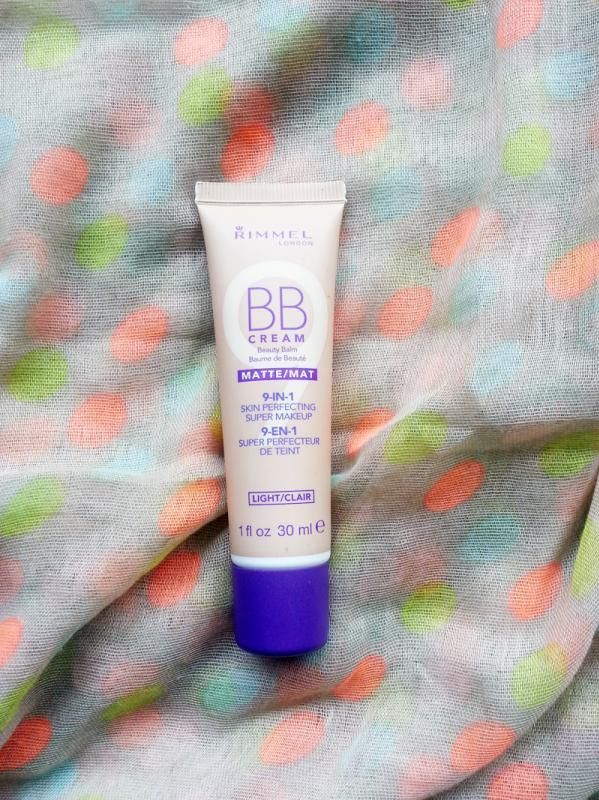 Rimmel London Matte BB Cream 9-in-1 Skin Perfecting Super Makeup
in Light
An oil-free, non comedogenic formula with a natural matte finish
-minimizes the appearance of pores
-evens skin tone
-Mattifies
-controls shine all day
-Smoothes
-Soothes
-Conceals dark circles
-Helps prevent blemishes
-Gives all-day coverage
This is on of my go-to choices for an every-day, foundation-free day. The coverage is fantastic. I find I only need concealer under my eyes and in a few spots on my face. The cream is truly matte, I don't get shiny on days that I wear this, even on my T-zone. It's one of my favourite BB Creams, as well as one of the least expensive!
The Downsides to this product? It's quite liquidy; I find I have to clean up around the cap to keep it from making my drawer a mess as it tends to seep (gross, seep). It it also a bit darker than my natural skin tone, I have to be very diligent about blending it out around my neck and jawline to avoid that lovely orange-face look that's never attractive.
Would I repurchase? Yes!
Physicians Formula Super BB
in Light/Medium
An All-in-1 Beauty Balm Cream
Another cream with great coverage! I'll wear this one with or without foundation. It's smooth, thick and very blendable. Again, this product is slightly darker/more orange than my true skin tone so blending is key. I find though, once I've applied concealer, powder, bronzer, etc, the tint becomes less noticeable - Bonus! One other downside about this product, It can oxidize slightly throughout the day, becoming more orange than it was in the morning. And if your skin is on the dryer side, those patches will become more visible.
Would I repurchase? Yes
Garnier Skin Renew Miracle Skin Perfector BB Cream
in Light/Medium
Instant all-in-one Innovation
-Renews
-Brightens
-Hydrates for 24 hours
-Evens skin tone
I don't use the Skin Renew very often. I feel like since it first came on the the market, there have been so many other drug store BB creams that have surpassed it. It does have good coverage and a nice, rich consistency. The colour is a fair match for me. I have a hard time dealing with how oily the cream feels though. It glides too much for me, it kind of feels like an oil slick on my face until I add my powder. This may be a great product however if you have very dry skin.
Would I repurchase? No
- too oily for my skin type
Maybelline Dream Fresh BB 8-in-1 Beauty Balm Skin Perfector
in Light sheer tint
-Blurs imperfections
-Enhances
-Brightens
-Adjusts to skin tone
-Smoothes
-Hydrates
-SPF 30 (Titanium dioxide 1.15%)
-0% oils and other heavy ingredients
This was a daily choice for me in the summer weather because it does contain SPF. This cream has a build-able, sheer coverage that I wear about 50/50 with and without foundation depending on how my skin is that day. This is not a BB cream I would use as a replacement for foundation however because of how sheer it is.
Would I repurchase? Yes
Aveeno Clear Complexion BB Cream
in Fair to Light
Instantly evens for a flawless complexion
-SPF 30
This is called a BB cream but I feel it's more of a tinted moisturizer. The packaging for this product is lovely. I like having a pump so you always get the right amount of product. The consistency of the cream feels very rich and smooth but it applies
very
oily. It feels a lot like Garnier's BB cream. It also looks very orange on the skin and tends to get patchy throughout the day. I honestly use this one very rarely. I'll see how it works throughout the summer however when I have a bit of a tan.
Would I repurchase? No
- I don't like the tint or the wear of this product
Annabelle BB Cream Multi-Action Beauty Balm
in Light/Medium
Innovative Fusion: Makeup + Skincare. An All-in-one skin solution. Hypo-allergenic, non-comedgenic, dermatologist tested, oil-free, paraben-free, perfume free.
-Perfect
-Brighten
-Prime
-Hydrate
-Protects with SPF 15
This is another favourite! I believe Annabelle is a line only available in Canada unfortunately. This little bottle is the only BB cream/Foundation I used all through my trip through Italy last Summer and I didn't regret it one bit! It has wonderful coverage, matches my skin very well and has SPF which is a great bonus! I have no complaints about the product itself. My only little problem is with the packaging. It is starting to disintegrate somewhat. The black covering on the bottle has started peeling, leaving teeny-tiny black bits on my hands while doing my makeup and the threading on the cap has come loose so I need to be very careful when putting it away.
Would I repurchase? Yes
L'Oreal Paris Nude Magique CC Cream
in anti-redness
colour correcting beatifying tinted moisturizer for all skin types. Neutralizes redness to recreate the brilliance of perfect bare skin.
miro-pigments encapsulated in color-osmosis technology carried in an anti-red green emulsion that releases a color foundation in total harmony with your skin. This creates a perfectly even and corrected complexion without redness.
- Neutralizes redness
- Unifies complexion
- Perfects texture and radiance of skin
- Ideal coverage
- Hydrates for 24 Hours
- UV protection and anti-oxident
Please forgive my probably not-quite-right french translations! I purchased this CC cream (yes a CC cream!) in Paris,
oh lala
. I have yet to see this product in Canada, but it may be in the states. I love this product! It comes out green, and with tiny little micro-beads that dissolve on your skin. If your familiar with the Loreal Magic Skin Beautifier BB cream (also awesome), it feels exactly like that.
The product is very thin, and quite runny. It blends into your skin from green to beige matching your skin tone as you smooth it in. It has great coverage but doesn't feel heavy at all! It really does cancel out the redness, especially around my nose and chin. Due to the green-to orange tint it leaves on the skin, this product is defiantly one too wear under foundation.
Would I repurchase? Yes!
Covergirl CG Smoothers BB cream tinted moisturizer
in 705 Fair to Light
9-in-1 Instant skin enhances
- Natural looking radiance
- Sheer colour
- All-day hydration
- Improves skin elasticity
- Blends effortlessly
- Lightweight
- Helps skin feel smooth
- Covers to instantly improve skin's appearance
- Won't clog pores
I would say this BB cream does do all it claims to do, which is what every BB cream claims to do really, but I don't like it. The coverage is very, very sheer. The colour is very, very, light. This is not a BB Cream I can wear without a foundation over top. Once it goes on, it kind of... disappears. If you already had perfect skin this would be fine as a tinted moisturizer, but let's face it. No one has perfect skin already. This may be a great option for a young girl just starting to experiment with makeup.
Would I repurchase? No
- not enough coverage for my liking
What are your favourite drugstore BB finds? Have I missed any? I'd love to know!