Soups on!! It's soup season! Pull out your crock pots and stock pots! Get the broth simmering, an veggies roasting! Our kitchens are going to smell warm and mouth watering until
at least
February.
This soup is known to me as my productive morning soup. Mostly just because I made it on a very productive morning. I'm easily impressed with myself. This soup was finished by 1030 am! Crazy, I know. Sometimes things just get done. There's something so satisfying about crossing things off your to-do list before noon: studying, cooking soup, exercising, photographing (3!) blog posts, showering (I'll take credit for whatever I can get, ok).

This soup is hearty and thick and bursting with rich flavour. There's a slight smokey after-spice from a pinch of chipotle, and the roasted carrots and tomato base really brings a fullness to the bowl. Not to mention all this deliciousness is super easy to make considering most of the prep time is done in the oven, meaning zero work for us!


Creamy, and warm, and green onion garnished.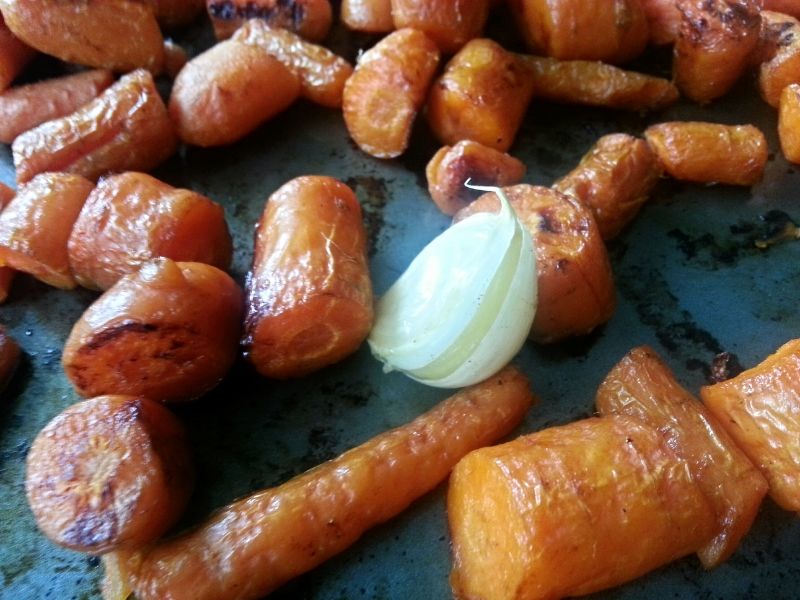 A little before soup action. Sweet, delicious roasted carrots and plump garlic.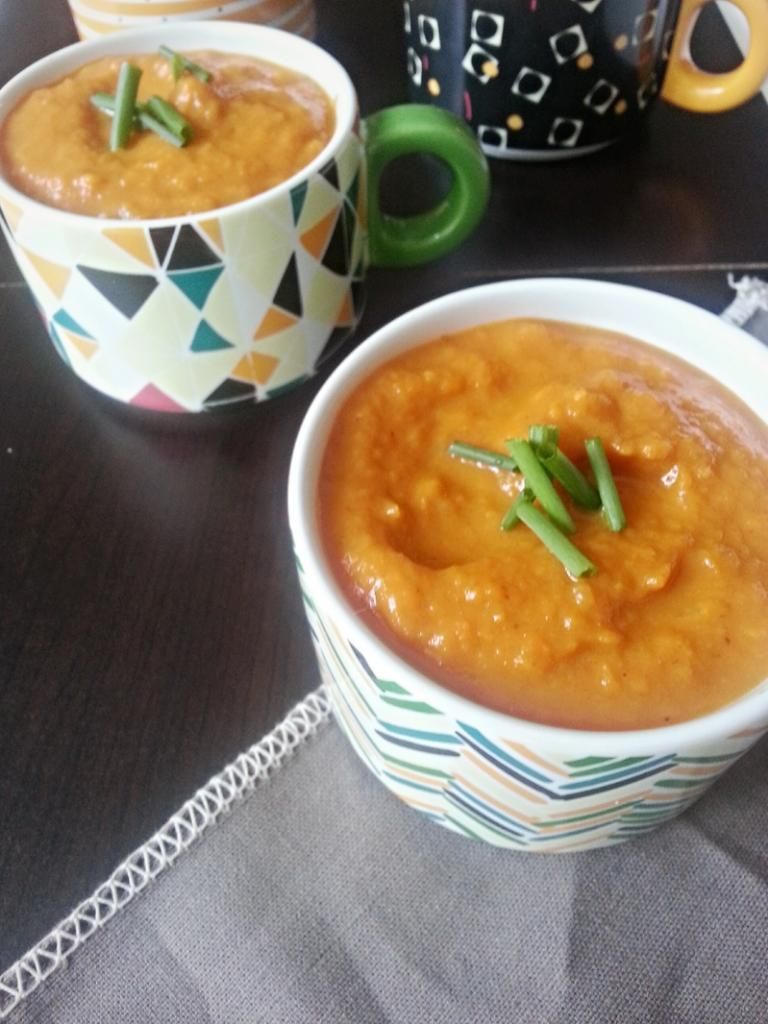 Ingredients & Recipe
1 1/2 lbs of carrots
3 Garlic Cloves
3/4 of a Red Onion
1 Tablespoon of Olive Oil
2 Teaspoon of Ginger
2 cups of Vegetable broth
1/2 cup of Tomato Sauce
1 cup of Water
2 cups of Almond Milk
1/2 Teaspoon Chipotle Power
Salt and Pepper to taste
Preheat your oven to 400 F. Wash carrots and chop them into manageable pieces. Add carrot pieces and garlic cloves, with the skin still on, to a medium sized bowl along with 1 Tablespoon of olive oil. Toss the veggies until evenly coated with the oil. Transfer the carrots and garlic to a baking sheet and put in the oven for about 35 minutes - until soft, roasted, and caramelized.
While the carrots are cooking, chop the red onion and water-sauté in a soup pot on medium-low until translucent. Add the ginger spice.
Add the vegetable broth and tomato sauce and bring to a simmer. Then add the roasted carrots and garlic (they should slide right out of their skins) to the soup as well as an additional cup of water or stock. Puree this mix with an immersion blender until smooth. Alternatively you can blend in batches in a food processor or blender but be careful with the hot liquid.
Once smooth, add the almond milk and chipotle, blend again, or stir until desired consistency and completely combined. Add salt and pepper to taste. And serve!