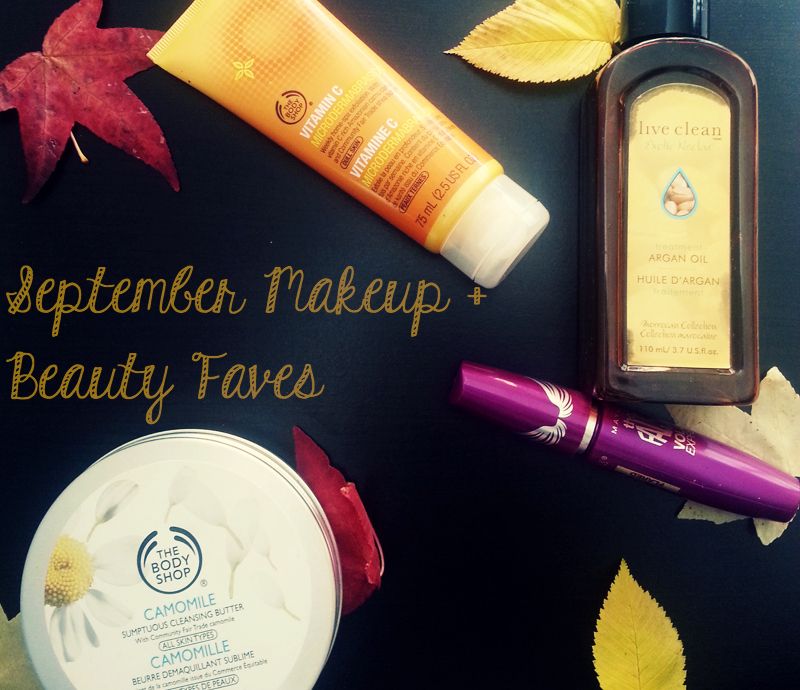 September's come and gone. And with chillier weather, richer and creamier products are coming back into my rotation. Moisturizing, warming, and calming beauty products are sounding better and better. Give me a few more weeks days and the bath goods will come out!
I did a lot of travelling for work throughout September so having something like
The Body Shop's Camomile Cleansing Butter
($15) was a little "practical luxury" for my makeup bag. Cleansing Butters work exactly like cleansing oils for removing makeup but they're hard-packed. Meaning no chance of spillage/leakage/mess in your bag! You simply scoop some onto your fingers and massage away. It melts with the warmth of your skin and feels soooo luxurious. It 's wonderful to use on your skin after a long day. I also find the butter helps remove eye makeup even better than some of my cleansing oils!
I picked up
The Falsies Flared Mascara
($7) on sale at Target mid-Summer then never really thought about it again, until recently. I'm sorry to say I forgot how much I love this mascara! I'm a "mascara gets better with age" kind of girl. But this one is perfect right from the get-go. It gives the fullest lashes without any clumping issues and doesn't tend to leave big splotchy blobs behind j
uuuust
above my eyeliner like some other large brushes can do.
While spending a night at my parents, I took the liberty of borrowing a few of my sisters face products for the evening. One of them was
The Body Shop's Vitamin C Microdermabrasion cleanser
($20). And I was really impressed. I went out and bought it for myself a couple weeks later. It's a great exfoliating wash with an invigorating scent to it. I use it once a week, usually in the evening. The sales girl told me it does such a good job because the exfoliating material is made from granite. Which sounds really intense and slightly scary! But it actually feels rather mild and fine so I'm OK with it.
I've been noticing
A LOT
of breakage in my hair recently. I think my messy high buns are beginning to catch up with me, and my hair is breaking at where the elastic's been. So I'm doing everything I can to nourish my already naturally dry and brittle mop top. I've pulled my
Live Clean Argan oil treatment
($12) back out from under the bathroom sink and so far so good! I plop about a dime sized amount into my pal m and froth it up before I run it through damp hair after every shower. I also use it to attempt flattening my poofy hair while I'm wearing it down. I find it does the trick nicely.
This is only the beginning of pamper-worthy fall beauty products, I can't wait! What have been your favourites this last month? And what are you most excited to bring back out of your collection?