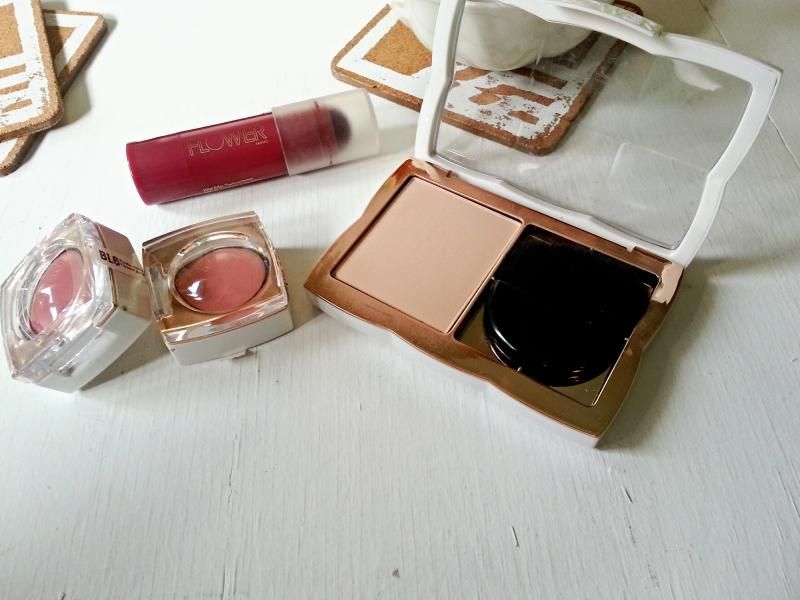 Flower Beauty, Drew Barrymore's Cosmetics line, available exclusively at Walmart, is relatively new to the drugstore cosmetic's world. They do things a bit differently than some of the biggest competitors - all the products are made in the US, the packaging is beyond anything you've ever seen from drugstore makeup, and the biggest deal for me, they never test on animals.
I picked up a few more products to try out and I'm really happy with all of them. I grabbed the powder foundation, two cream blushes, and a chubby blush/lip combo stick.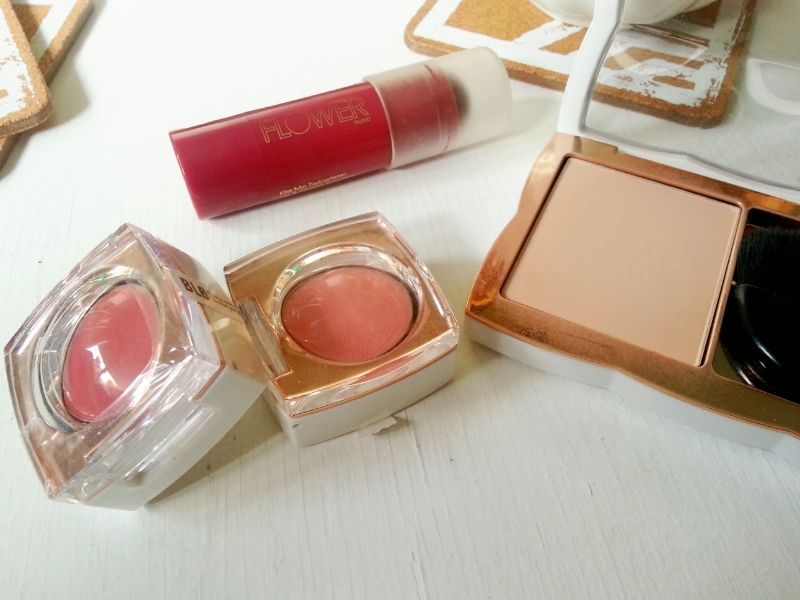 My favourite product by far is the pressed powder. I went with the lightest shade, and use it to set my foundation every morning. Surprisingly, I adore the little brush it came with! It's fantastic for using under my eyes to set my concealer as well as along the sides of my nose. I use my regular powder brush for the rest of my face. The powder itself it soft and mattifying. I love that it lasts all day and matches my skin tone nicely.
The cream blushes are lovely. I've not used too many cream cheek products in the past but I do know they can help to give a really natural glow to your face. These blushes do this that! I love using one along with a highlighter to really give a beautiful glow to my cheeks. These are definitely a product I've been gravitating towards on "no makeup days". They're so easy to apply, just use your fingers, and it look so natural! The colours I chose are a light dusty rose shade - "Forget-me-not", and a deeper cherry red - "Elegant Azalea".
The Lip & Cheek Chubby Stick I chose is in the shade KM5 "Raisin the Roof". It's a very dark, vampy red that I thought would be gorgeous for Autumn/Winter and upcoming holiday parties. I haven't used it too much yet as I haven't had the oppourtunity but a little goes a long way with this one on the cheeks. It's quite opaque. A few dots is all you need, then you're able to blend it out nicely. I think applied to the lips it would be best to use a liner and a brush, to get a really stunning look.
Have you tried any of these products? What are your favourite bits and pieces from Flower Beauty? All in all, I have been so impressed with everything I have gotten from this brand. From the beautiful packaging to the quality and variety of the products, I'm a huge fan.
This is kind of an continuation post about my first post on Flower Beauty, Read the first post too!