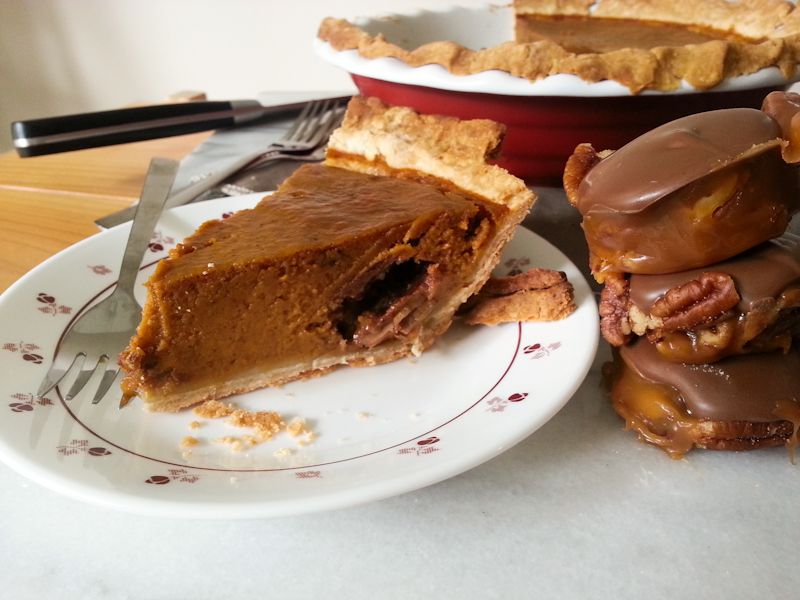 So, apparently I just can't make a normal Pumpkin Pie. But really, normal pumpkin pies are about as common as finding a pumpkin in a pumpkin patch. Common in baking is usually boring, sometimes it can be perfect. But let's be honest, usually it's boring-town.
This year I made Sweet Georgia Brown Pumpkin Pie. Otherwise known as Pumpkin Pie scattered with hidden pockets of molten milk chocolate, sweet drippy caramel, and roasted and salty pecans. Now come on, don't tell me you still want a normal pumpkin pie! We're totally over normal.
Sweet Georgia Browns
are the most amazing things and they're made by Purdys Chocolatier, a local Chocolatier here in BC. They're treats are available in BC, Alberta, and Ontario, and
online
.
If you can't get these bad boys, it's also super-okay to sprinkle chunks of quality milk chocolate, pecans and caramel bites into your pie. However you do it, do it.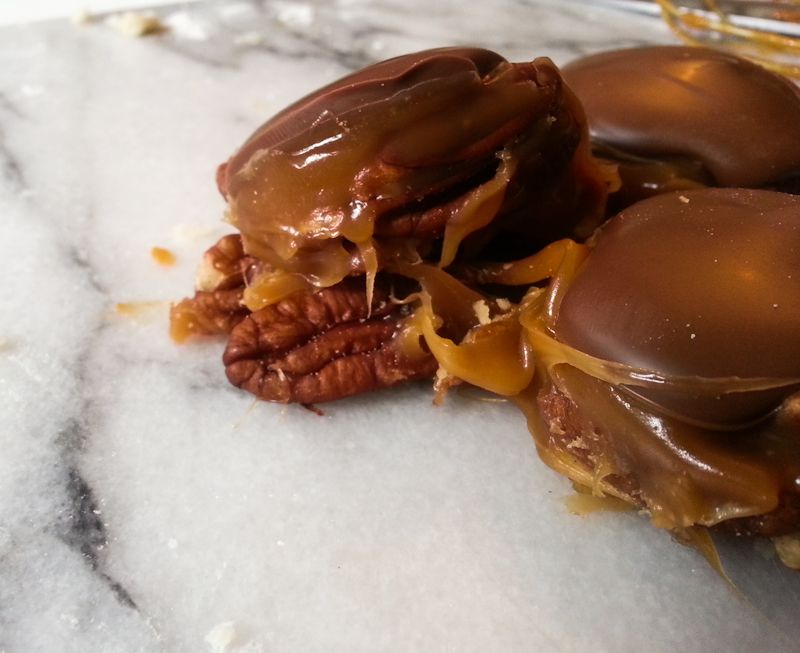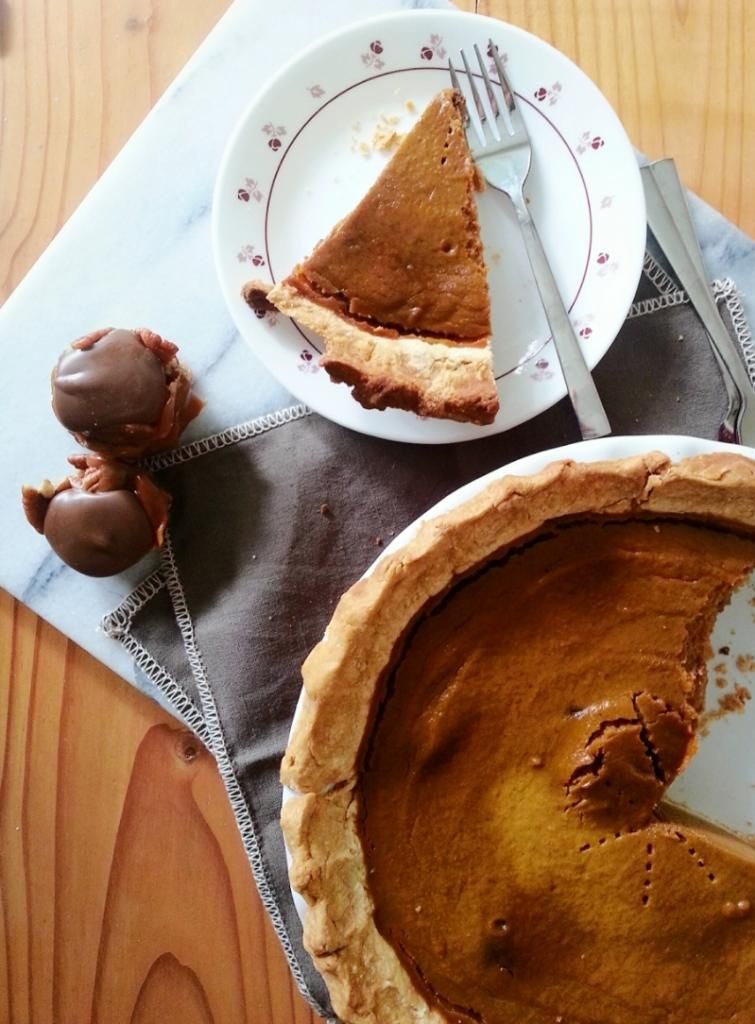 Let me show you how I did it!!
Floury dough looks light and dreamy.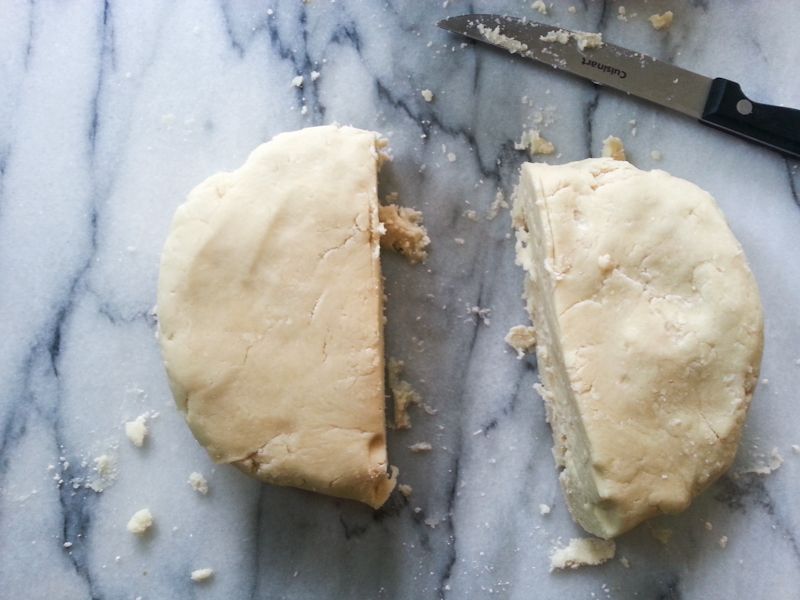 Always make two pie crusts at once, half the work - twice the pies. Freeze one for later, you'll be thankful.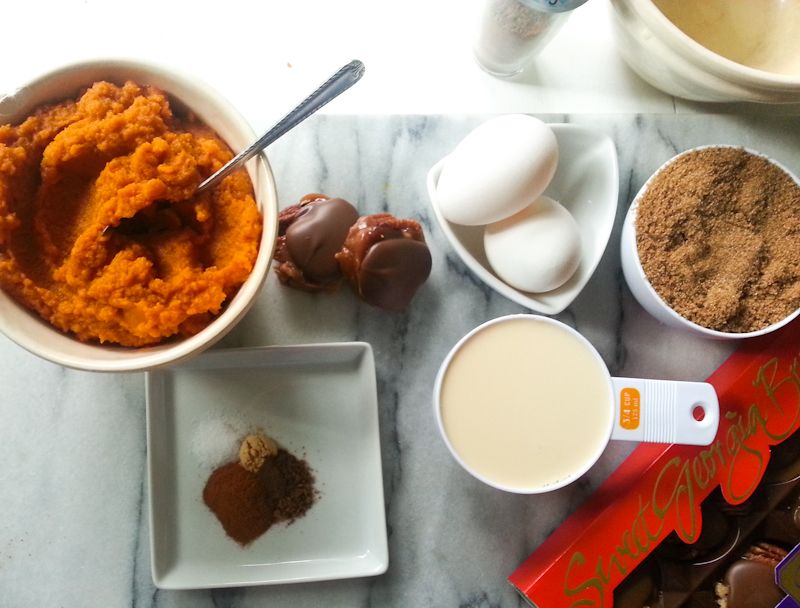 While your dough chills, begin a
little pie assembly station.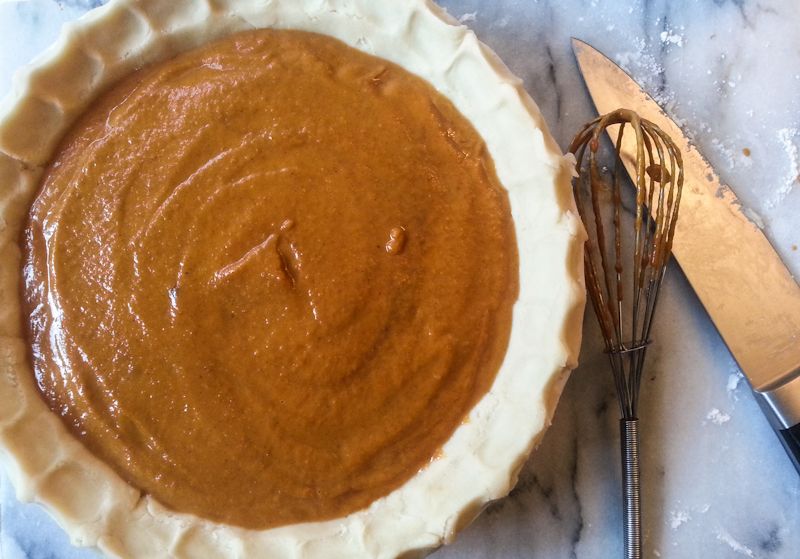 You'd never know the goodies hiding inside this thing.. Just you wait.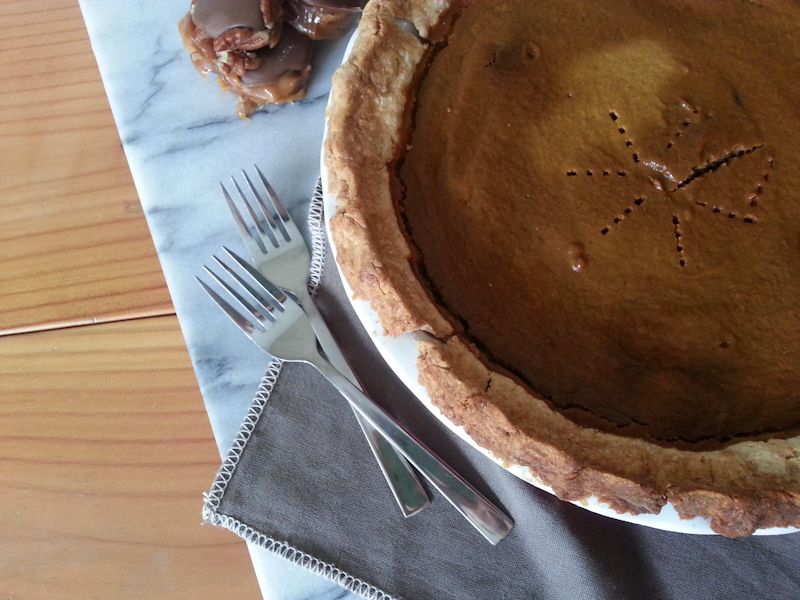 You can juuust make out the darker spots in the pie where there's chocolate hiding. Also, I hate stabbing my baked goods, not cute. So I made a pattern hoping it would look like an aesthetic decision. Unsuccessful.
Inside each slice is pockets of extra dessert! just look at that chocolate cave. We've created dessert inception.
Ingredients & Instructions
makes one 9" Pie
For the Crust
For the Pie Filling
2 eggs
1/2 796 ml can of Pure Pumpkin Puree
1 Cup packed Dark Brown Sugar
1 teaspoon Ground Cinnamon
1/2 teaspoon Ground Nutmeg
1/4 teaspoon Grond Ginger
1/4 teaspoon Salt
3/4 cup Evaporated Milk
6 Milk Chocolate Sweet Georgia Browns, regular sized.

can substitute for chocolate chunks, pecans, and caramel pieces
Prepare Pie crust as directed in your paticular recipe. Lay it into your pie plate. Don't bake it.
Preheat your oven to 425 F.
Beat the eggs in a medium bowl and add pumpkin puree, sugar, spices, and salt.
Stir until everything is combined.
Stir in evaporated milk.
Pour about one third of the mixture into the bottom of your prepared, unbaked pie shell.
Gently rest each Sweet Georgia Brown on top of your filling, being careful not to let them sink, in a round pattern in your pie. I was able to do 5 around the edges and one in the centre.
Pour the rest of your filling over the sweet Georgias, covering all of them.
Bake for 15 minutes, then reduce the heat to 350 F and continue to bake for 30-40 minutes or until a knife comes in and out of the pumpkin filling cleanly (when testing for done-ness be careful not to stab a chocolate, it will come out chocolaty and you won't know if your pie is done).
Cool and serve at room temperature, or slightly warmer.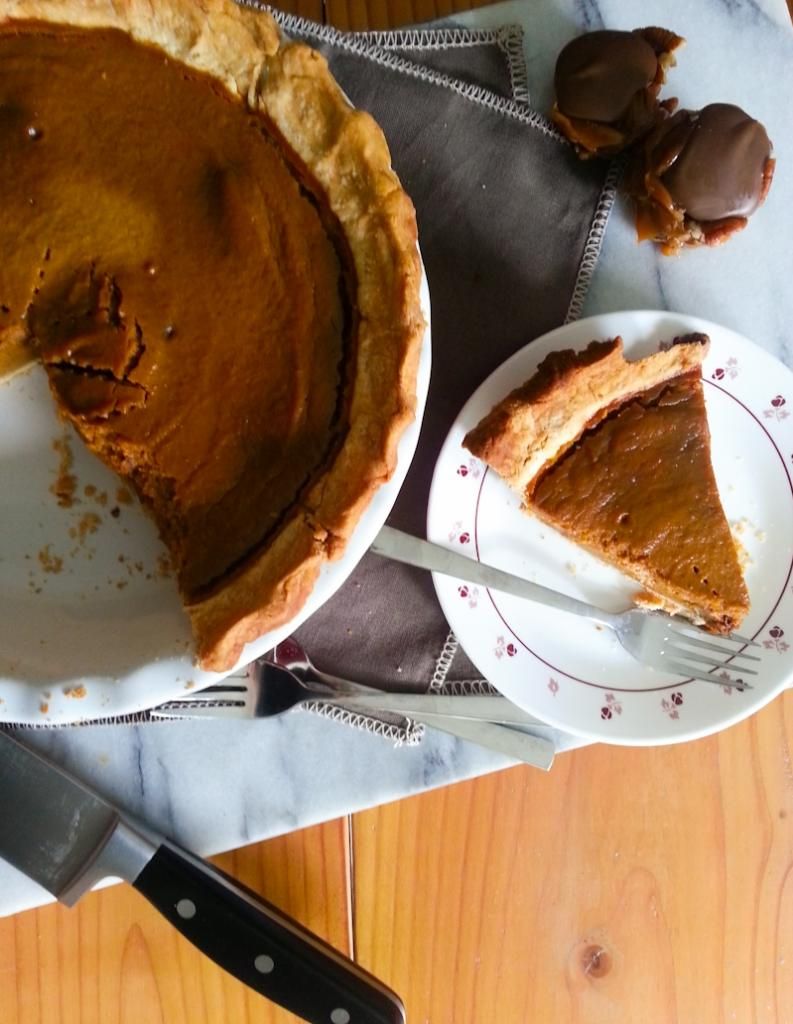 I'm already dreaming of other things I can hide in pies! Is that crazy? Maybe, I think there's a nursery rhyme about that, or a prison story... Forget it. Are you going to give this a go? I'd love to see!