My younger teenage self imagined me in my early twenties living like Amanda Bynes did in What A Girl Wants - pre-London royalty: In a tiny Chinatown apartment where all the neighbours would know my name and I'd be surrounded by bead curtains, bohemian clutter, exposed brick, and bustling New York City streets. That's not my real life. Clearly.
Fast forward nearly ten years later and I've had quite a few "first apartment experiences". None of which included busy downtown streets or exposed brick. This is my Starter Story; How I came to find the first apartment that really felt like home out on my own.
When
Compass
asked me to explore their real estate search engine for New York City dwellings I was more than happy to indulge my childhood dream of living wildly independent in a big city! Of course, I had to do it from the comfort of my current little home in Victoria!
I had no idea how much I would love house plants until I got one. Now I can't get enough!
Let's start right at the beginning. My very first apartment was a 10 minute walk from my parents house. I really struck out on my own, didn't I?
I moved out with one of my long-time girlfriends. We had a lot of fun living on our own for the first time together! We went vegan, fostered 4 cats and 6 kittens, and laughed about our 25 year old Korean landlord who would text us to tell us things like "the microwave would be fixed and that we looked beautiful today". The time I spent there really gave me a taste of what it was to live independently - paying bills, meal planning, apartment hunting.
I also got a taste of what it was like to have a room mate. As much as I love my friends, I found out that I like having a lot of personal space at home, and that I didn't always enjoy having a room mate. Because of this, the apartment we shared never felt like a home to me. I lived in that apartment for just over a year before I moved back home to save money for my trip to Italy.
A little gallery wall over our bed. Which includes prints from Etsy, a sketch from Disneyland, and DIY art
After my 10-minute-from-home apartment, I experienced my first time ever "moving back home". I had no bedroom to go home to (that's what happens when you have sisters)- So into the basement I went! for about a month I lived in my Mom's craft-room-turned-bedroom for me. It was a quick little stint, I barely had time to unpack my bedroom boxes.
From there I experienced my first time "living with a boyfriend" How grown up of me! I moved into the apartment Mitch had been sharing with a roommate once his roommate moved away. It wasn't a great place but he had a lease to stick to.
The downstairs neighbours were craaazy about their noise complaints (see Tip #2)! We're talking boom stick on the ceiling at 8pm for watching the Truman Show too loudly, a complaint to the building manager because our phones would keep them up at night from the vibrations of us getting text messages, and us not being allowed to shower after midnight, or have guests after 8 pm.
At the time we weren't sure where Mitch would end up working after University - so moving in, seeing how we got along living together before we possibly moved to a whole different province and lived together there for the first time was totally the right move to make. Grown up decisions, you know. By the way, if you haven't figured it out, we got along great.
Mitch then moved up island to do some extra schooling. So back home I went again!
For 3 months I was back in my bedroom/craft room. This was a great opportunity to scale back on STUFF. Being a sentimental person, I like being surrounded by things that remind me of good experiences: childhood toys, gifts, cards, I keep everything! But moving 5 times between the two of us in a 6 month period taught me to purge pretty well.
After living between my parents and Mitch's tiny bachelor apartment Up Island, we were finally able to find a place of our very own. Our very first "Apartment Home"! Where we live now. This is the first place I truly consider to be a home, I mean, besides the home I grew up in.
No joke, the first place we looked at is where we currently live, and the one we wanted all along!
I absolutely love this apartment! The building and the area have everything we wanted. Even after living here for almost a year we still mention, on almost a weekly basis, how lucky we are to have found the place we did, and how we can happily stay here until we can buy a home of our own.
Securing this place was a bit of a debacle though. We had to wait about 2 months from when we viewed the building to when we were able to rent a unit, but it was worth the wait!
We have a huge balcony that overviews our lovely and quiet tree-lined street, a storage locker right down the hall from our apartment, two parking spots, a spacious living room, a shower and tub, and a dishwasher(!!!). We live in one of the most beautiful parts of town where we're a walkable distance to downtown, and two beaches. We also have a wonderful and understanding building manager which is more important than some may realize. Should I go on?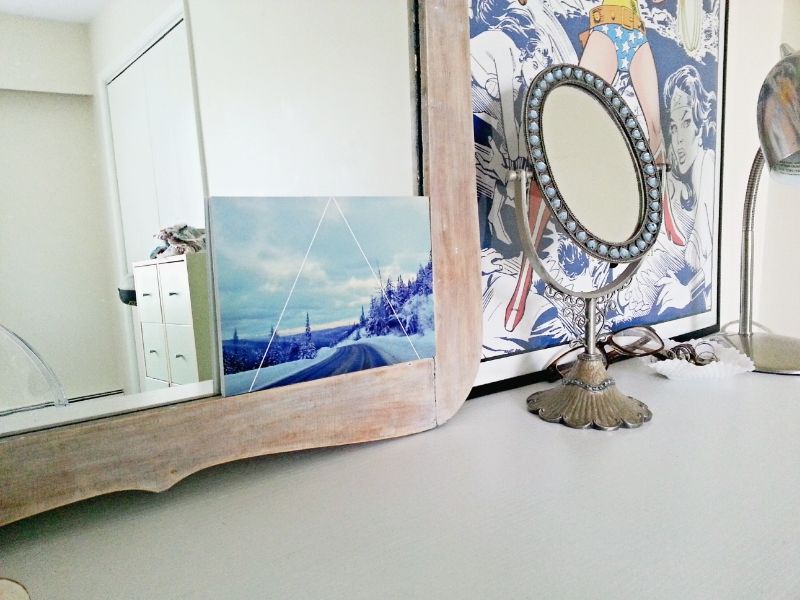 My makeup table keeps a mirror I've refinished, a print from our trip snowboarding last Christmas, a hand mirror gifted to me years ago by one of my best friends and my favourite Wonder Woman poster that I can't bear to part with. It's my little corner of the bedroom.
After moving sooo much within the city over the last 2 years, I feel as if I have some advice to offer anyone who is striking out on their own for the first time. Here's what I've learned along the way.
Pinterest is a fantastic and amazing wealth of inspiration, but it can also be black hole of unrealistic expectations. Don't let pinterest set your heights to high on what you can achieve in your first apartment. I find even when I search for apartment DIYs and design on Pinterest they're still unrealistic for the average renter. Scandinavian design can be beautiful, bight and simplistic but don't forget, you probably have no money. You're most likely not allowed to paint your walls, so unless they're already a beautiful white when you get there, learn to live with beige. Make do with what you can, and what you can afford. Stick to furniture DIYs and non-permanent solutions for the most part.
Have a must-have list and a nice-to-have list. Honestly, this tip is a heck of a lot easier if you've lived on your own before and know realistically what's important to you. Our must have list included living close to town or my work, renting in a building (not a basement suite), living in a building with soundproof-ish units (crazy neighbours), two parking spots, a balcony, and needed to have either a double sink or dishwasher. Our nice-to-have list included hardwood floors, a storage locker, and being being in a character building.
Craigslist and used insert-your-city-here can be a fantastic place to find furniture... Sometimes. Services like these are really only helpful if you or a friend has a truck. Most people giving stuff away have no desire to drop off their old crap at your house, and really who can blame them? We've gotten more furniture and odds and ends through friends and relatives than online. If you're moving within a city where you know people, don't be shy to accept hand outs. People love to help you get going and you can get some wonderful stuff for free! My crock pot was inherited from my aunt, pots and cookie sheets from my boss, our couch is from my parents, our bar cart was shipped down by Mitch's mom when she downsized her home, and our book shelf was purchased for really cheap off of a friend who was moving away.
On the flip side, don't feel like you need to accept every free donation. know when to say no thank you. Like to that one aunt is trying to pass off her 20 year old treadmill? You don't need it.
Know your budget before you look. My Mother has ingrained in me that your portion of rent should be no more than 70% of one pay check, or 30% of your monthly income. So that's the rule I've always stuck to when looking for apartments.
It wouldn't be right to not show my kitchen. Just a stereotypical apartment kitchen. Complete With terrible lighting and burn marks on the counter. But with awesome knives.
One of our favouite parts of our home is our bar cart. Above it is an illustrated map of Victoria as it was in 1878.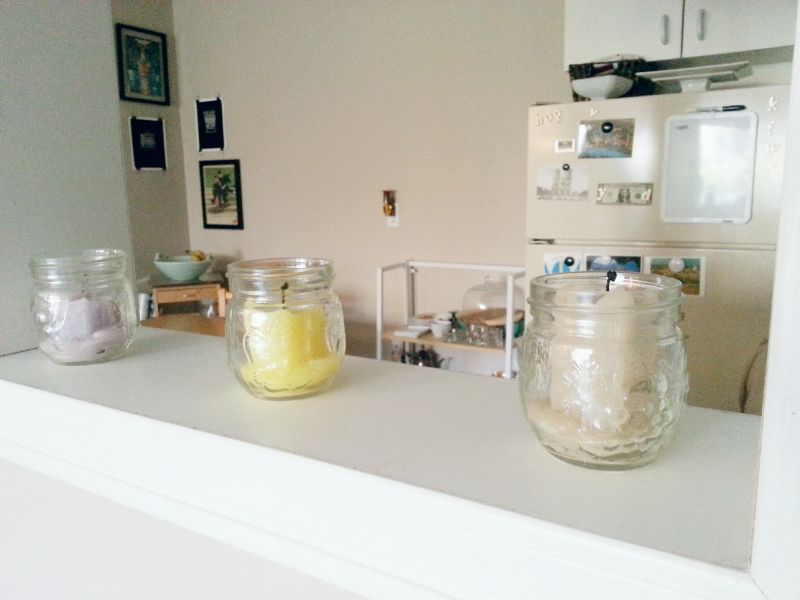 One of the neatest features in our apartment is the pass through between the kitchen and living room. It looks cool and lets in what little light the kitchen gets.
This post is part of the Starter Story Project being run by
Compass
.
compass is an online real estate platform that allows you to search for apartments and living spaces throughout all neighbourhoods of New York. Their detailed and user-friendly search engines are created to best suit your needs and personality! I've been planning my imaginary
Chinatown NYC
life for a few weeks now...
What's your Starter Story?