The New Year is sneaking up so quickly, it will be 2015 before we even know it! This all seems ridiculous because I feel as though I've been thinking about sparkly New Year's outfits for months! The best part about New Year's eve is glitter and gold!
When
eShakti
asked me to use their online shop to order a piece and have it custom fit to my specifications I couldn't have been more excited! Obviously a party outfit for the upcoming night jumped to my mind immediately.
A sparkly flapper skirt and accessories, a comfy sweater, statement heels and a little bit of holiday velvet. Put it all on and call it 2015!
Using
eShakti's
garment customization's option was a dream. One of the scariest things about ordering clothes online is that you may be investing in something that won't fit right or won't suit you.
The customization was as simple as measuring myself and punching in the numbers. And the high-waisted skirt I chose fits me like a glove! I seriously don't have anything else in my wardrobe that fits me this well! Although the skirt is longer than I assumed it would be (but still a flattering length), it does make sense as most of the styles on eShakti are vintage inspired and therefore have more vintage cuts. I love the beading and quality of this skirt too. It makes me feel awfully fancy!
eShakti
was awesome enough to offer you guys a promo code for 10% off your regular priced eShakti purchases! Just use the promo code LOVEOFSWEETIES until January 17th.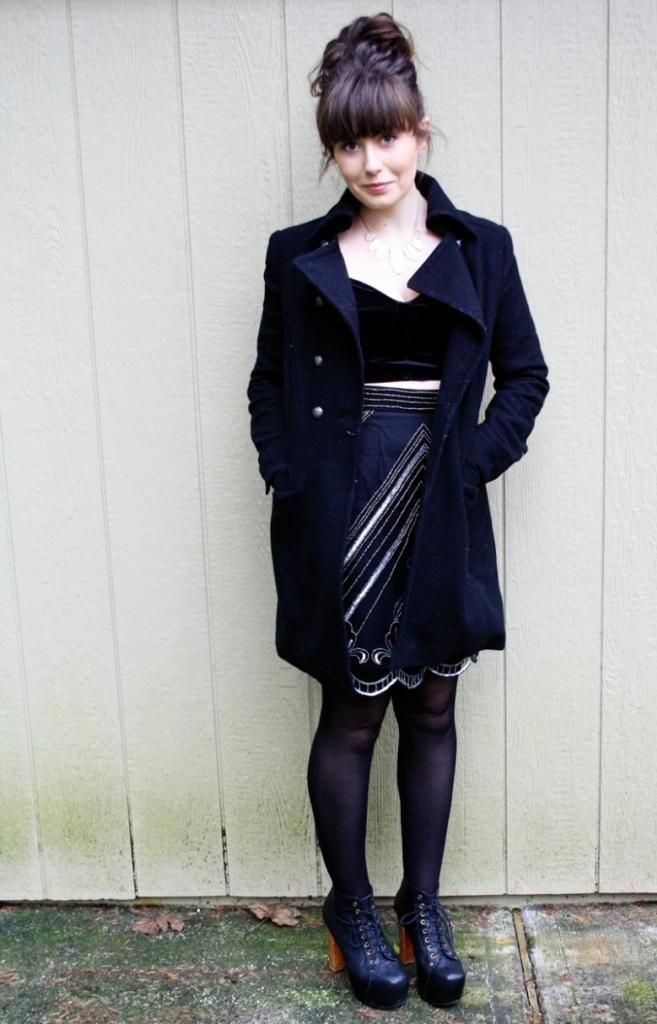 Necklace | Old Navy
eShakti
Pinterest
|
FB
|
Twitter
PS How did I do on my first "OOTD" type post? Props to all the fashion bloggers! This was was so much fun but also really challenging. Posing without looking like a dud is hard. Apologies if I look like I'm staring at ants. But I'll get better with practice, right?