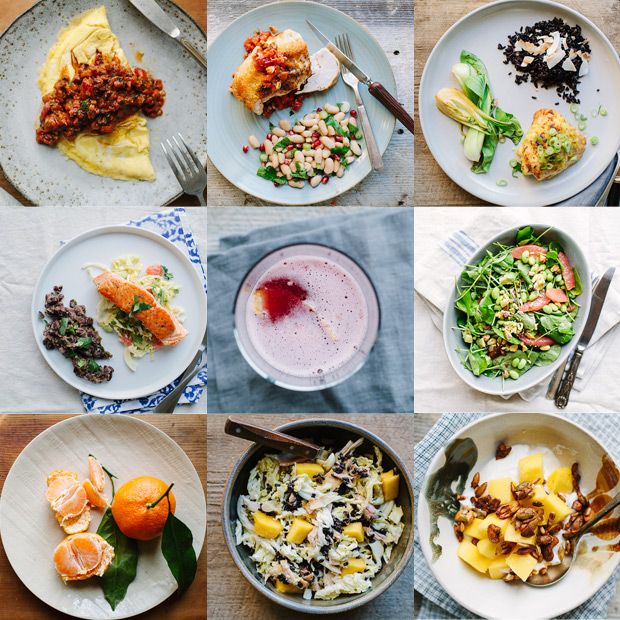 Happy New Year Everybody! How are you feeling today? I have a feeling yesterday was a write off for most people, it was for me at least. I'm so ready to get back to healthy and vegetable-full meals! I've had stuffing one two six too many times last month. On the vein of getting back on track, I've got something exciting to share with you guys!!
In the Vancouver Airport last week I picked up the January issue of Bon Appetit magazine. And of course being January, it boasted healthy recipes galore. It also mentioned something called the Food Lover's Cleanse... I love food. I like the idea of cleanses, and how they're supposed to make you feel, but really who likes a cleanse? I read the article and was immediately intrigued.
Bon Appetit's Food Lover's Cleanse is a meal plan they put together for the first two weeks of January (2nd-15th) to get you back on the healthy eating track and cooking exciting meals with whole foods. Because as we all know, December is a complete wash for being healthy in any way shape or form. I've looked into it. I'm doin' it. You should do it too.
Feel free to follow me along on
Instagram
, with the hashtag #BACleanse. I'll be posting our exciting meals there, I'd love to see yours too!
We're not going to be doing the cleanse recipe for recipe, we can't afford to (there's a lot of crazy ingredients in there). We will be using lots of the recipes listed, substituting where we'd like to, and replacing entire meals or ingredients when we need to to use food we already have in our house.
If you're interested in doing the Food Lover's Cleanse as well, All the recipes, grocery lists, and guidelines are completely free on the Bon Appetit Website!
I am in no way sponsored or payed to write this post or take part in the Food Lover's Cleanse, just very excited to find such a convenient way to start January with delicious, healthy food!