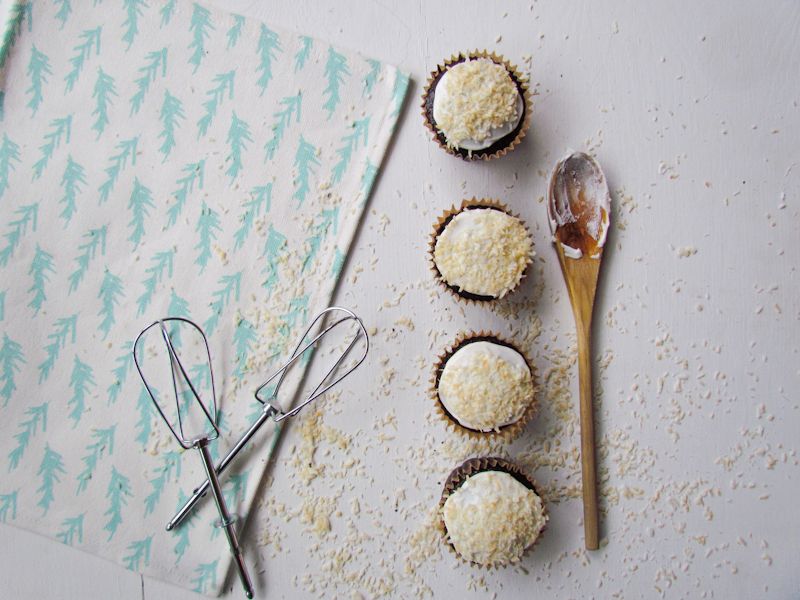 Mitch's Mom sends the best Birthday presents every year. Last year it was entire kit for everything we could need to make sushi. Including the rice!
This year She sent me a beautiful box jam packed with everything necessary to bake and decorate a gluten free cake! I'm not kidding when I say everything. From a cake mix to candles. There was icing, sprinkles, piping bags and tips, even little mini bundt pans and cupcake liners! I was very spoiled. I'm putting some of these gifts to good use in these cupcakes!
This recipe uses a Gluten Free boxed cake mix as its base. And the frosting in this recipe is store-bought icing that we've enhanced with zesty lime and spreadable coconut oil to make is so much better.
I'm pretty sure any store bought Devil's Food Cake and Vanilla Icing would do the trick for this recipe, but the fact that this cake mix is gluten free and we've turned it into the softest, most moist cupcake you can imagine, well that's just crazy-awesome.
The coconut flavour from the milk in these cupcakes is very subtle, it more-so helps to add some intense moisture to the cake. So if you are not a fan of coconut just leave the toasted coconut off the top. By thinning out the icing with coconut oil it becomes more spreadable and won't dry out, if these cupcakes are keeping for a few days. It also helps cut the sweetness that so many store bought icings can be overwhelmingly full of.
Makes 12 Cupcakes
1 Box of Betty Crocker's Gluten Free Devil's Food Cake Mix
1 Cup Low Fat Coconut Milk
1/2 Cup Coconut Oil
3 Eggs
1/2 tsp Vanilla Extract
1/2 Cup Vanilla Frosting
1 1/4 tsp Lime Juice
2 Tsp Coconut Oil
1/2 Cup Shredded Coconut, Toasted
To Make the Cupcakes
Preheat the Oven to 325 F if using dark or non-stick pans and 375 F if using lighter metal pans.
Add all ingredients to the bowl of a stand mixer and mix on low until incorporated about 30 seconds, then continue to beat on medium speed for about 2 minutes. Or you can beat by hand until you achieve the same smooth-batter consistency.
Line your pan with Parchment cupcakes liners and fill each cup about 1/4'' from the top.
Bake for 20-24, minutes rotating pan half way though. Cupcakes will be done when the tops just spring back when touched. Frost when cool.
Heat a saucepan over medium heat on a stovetop. When pan is quite warm, remove from heat and add icing to warm pot. stir continually until consistency becomes more like a sauce. Still in coconut oil and lime juice.
Frost cupcakes with a knife, then roll each iced cupcake top in a bowl with the toasted coconut.