These sugar cookies just look like a party, don't they?! They're ridiculously colourful and way too fun! The bright sprinkles pop out of these vanilla flavoured treats like crazy!
Forget about a birthday cake, a wobbling tower of these cookies on a dessert tray is all you'd need to let people know what's happening. (Okay, I know a fancy cake is necessary at every birthday, but just go with it for a minute.)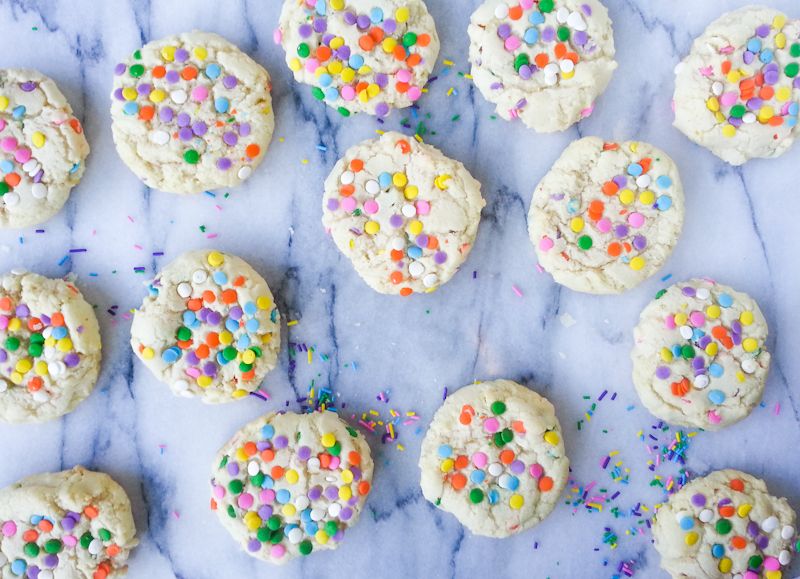 But seriously, besides these cookies being darn adorable and exciting, they're delicious! So soft, tender, and perfectly sweet. And the overwhelming amount of colourful sprinkles add texture and sugary crunch.
I felt like quite the established baker bay the time these guys came out of my oven.
These cookies are a joy to make too. There's something therapeutic about creaming butter, eggs and sugar until its fluffy like whipped cream, and then throwing in a rainbow of confetti; sooooo satisfying. The dough is equally as delicious as the cookies by the way. In case you were wondering.
I wish I could take credit for this recipe but it all goes to Averie at
Averie Cooks
. I doubled mine, one batch won't cut it.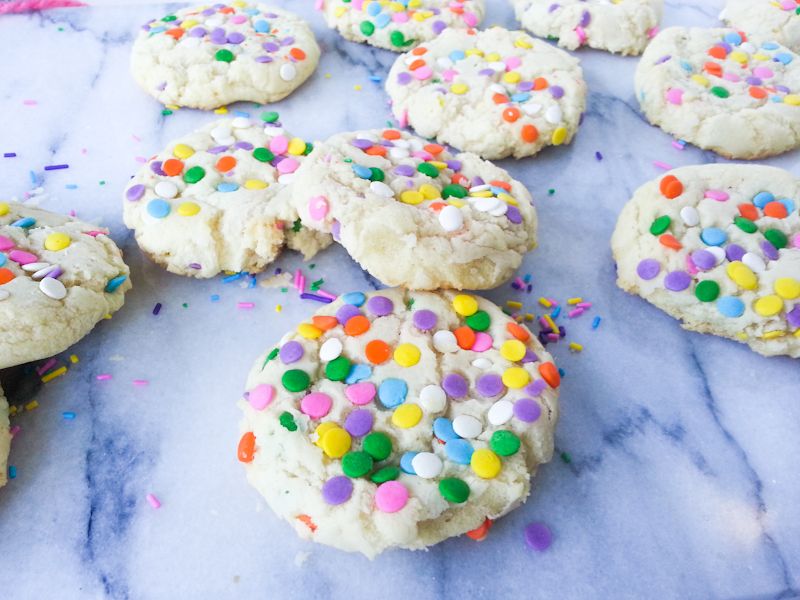 Makes approx. 24 Cookies.
1 Cup butter, soft, at room temperature
1 1/2 Cups white sugar
2 Large eggs
3 Teaspoons imitation vanilla extract
3 Cups all-purpose flour
4 Teaspoons of cornstarch
1 1/2 Teaspoons baking soda
pinch of salt
3/4 Cup sprinkles
Prep two cookie sheets with parchment paper and set aside.


In the bowl of a stand mixer combine butter, sugar, eggs, and vanilla. Beat on medium speed until the mixture is super fluffy and creamy, about 5 minutes. Scrape down the bowl as necessary.


Stop the mixer to add the flour, cornstarch, baking soda, and salt. Mix by hand at first to bring together, then turn the mixer on and mix on low until dough is just combined.


Stir in 1/4 cup of Sprinkles by hand until fully distributed. Add the remaining sprinkles to a small bowl.


Using a large spoon (I used an ice cream scoop), scoop large, 2 Tablespoon cookie mounds.
Roll the top of each cookie in the extra sprinkles and place on the baking sheets spacing about 1 -2 inches apart. Flatten each cookie slightly.


Cover both cookie sheets with Saran-wrap and refrigerate for 2 hours minimum, or overnight.


Preheat oven to 350F. Bake cold cookies for 9-11 minutes, rotating half-way through bake time.
When done, let cool for five minutes, then move to wire rack to continue cooling.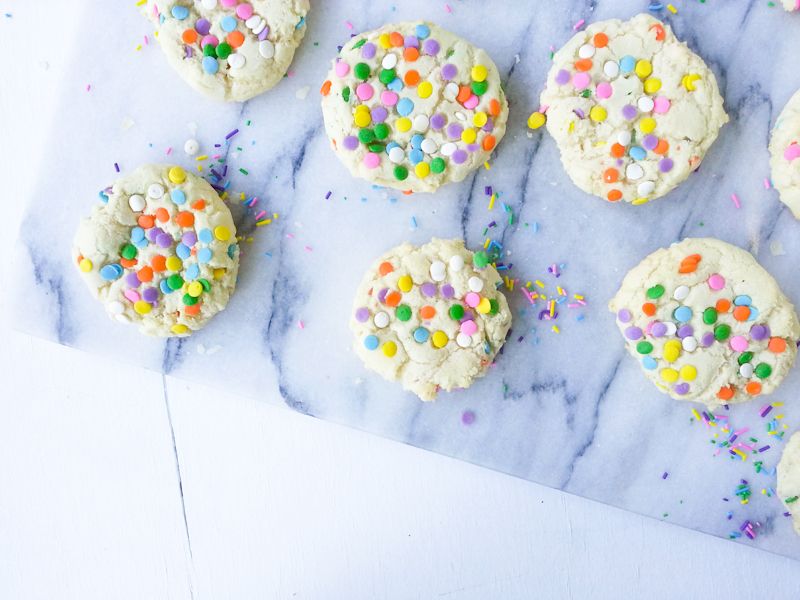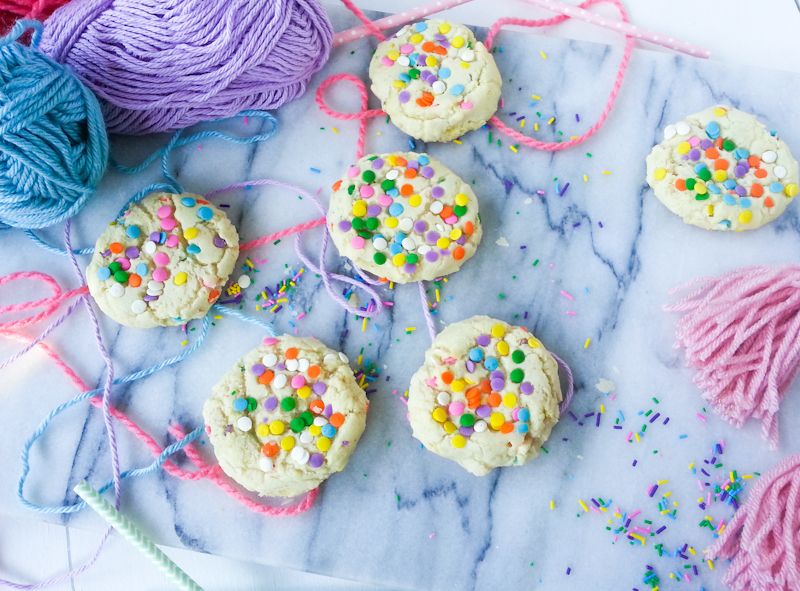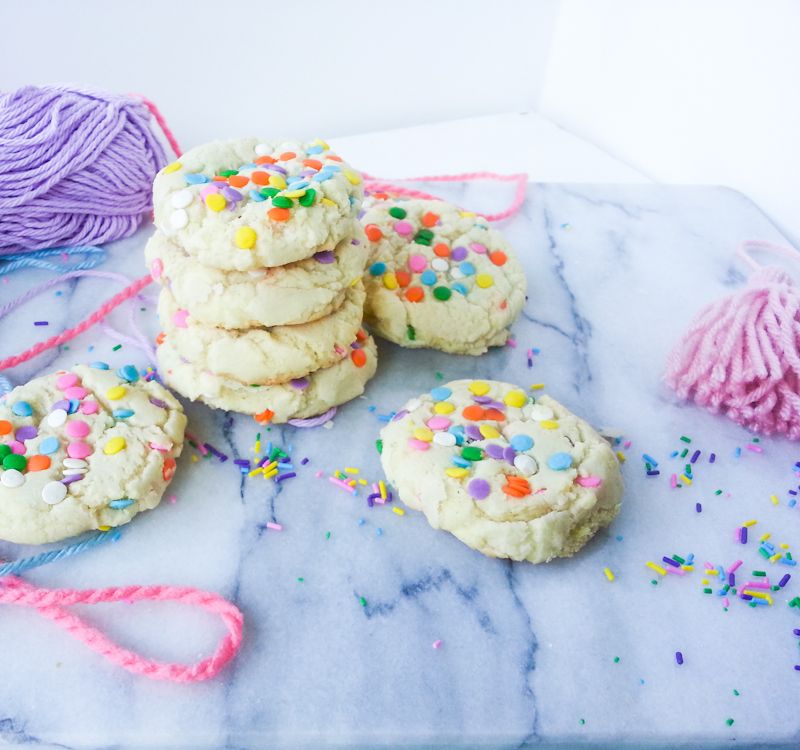 What kind of party would you bring these cookies to?