I'm a chai tea latte junkie. I'm obsessed with the creamy, sweet and slightly spicy flavour. I love the blend of warm spices, and that every coffee shop has a slightly different mix of them. Ever since I stopped drinking coffee, chai tea lattes have been my fix.
I think the most alluring thing about chai tea lattes is that they feel like a treat. OK, honestly, with all the sweetener and milk in those things it really should be just a treat. But of course, I don't treat them like one.
The last couple weeks I've been hearing more and more about the benefits of turmeric and turmeric tea. Crazy, because I'd never heard anything too special about the vibrant yellow spice before. But this stuff has some wild benefits! I've read plenty of good things, let me share just a few quick bits:
Is a natural anti-depressant
Helps aid in digestion
Is anti-bacterial, it can heal wounds faster and aids the immune system
Detoxifies the liver
Induces sleep
Clears up skin with its antioxidants
So after a few boastful articles I had to see if this stuff even tasted good. I made myself some turmeric tea (I've also seen it called golden milk, from its sunny yellow colour), and holy moly this stuff is delicious! It's my new chai tea, I'm not kidding. I could see it being a more acquired taste to some but I can't get enough!
The honey and almond milk keep the drink sweet and creamy. The ginger, cinnamon and turmeric are warming and comforting. And there's a slightly spicy flavour. It sounds like I'm describing Chai, I know, but these drinks are quite different in subtle ways. And can we just talk about how much sugar is not in this drink!
This recipe is simply milk, spices, and sweetness but it feels full-bodied like a latte. So, we have a latte on our hands.
RECIPE & INGREDIENTS
makes 1 serving
1 cup (8 oz) Almond milk
1/2 teaspoon Turmeric spice
1/4 teaspoon Ginger spice
1/4 teaspoon Cinnamon
Pinch of Black pepper
1 - 1 1/2 teaspoons Raw honey
In a small saucepan heat almond milk over medium heat, being careful not to let it scald.
While it's warming add all other ingredients to a mug.
Stir the spices and honey together, creating a paste.
When milk is hot, pour about a tablespoon-full into the mug and mix it with the paste.
Add half the remaining milk, and stir again. Then add the rest of the milk and stir, and enjoy!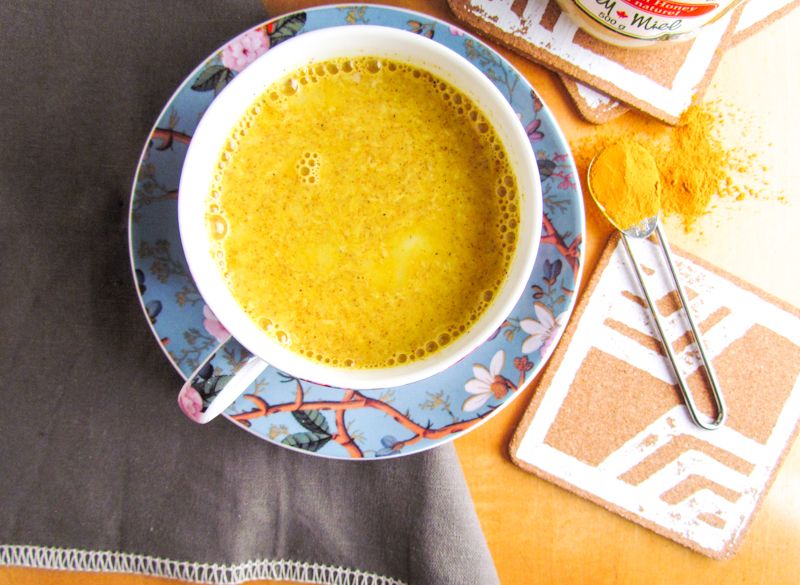 Have you tried turmeric-anything before? What did you think?