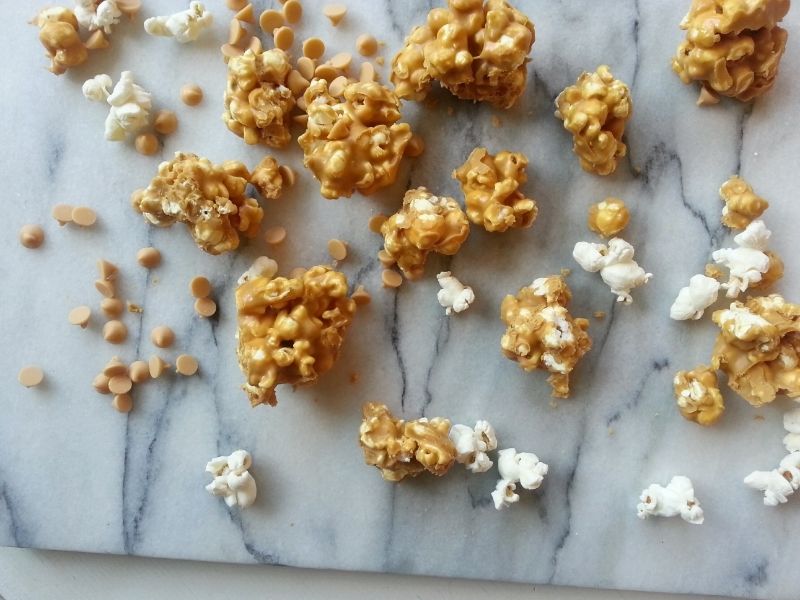 Sometimes you need to make something that you just know will turn out and be ridiculously delicious. Usually it's because you've finished making something that crashed and burned.
Here's the deal; I had a nasty bought with three pounds of baby pink Turkish Delight earlier this week. After three days of nurturing this blob of wet goo, I finally threw in the towel and threw it out today. It's time for a bit of a self-esteem boost. And nothing boosts self-esteem like chocolate, let me tell you.
To be totally honest, I anticipated this recipe to easily slice into big, fat, popcorn squares. They didn't, but they taste way too good to consider them a failure. So we adapt!
Crackle (which I've just invented) is clumps of sweet and buttery popcorn. With smooth peanut buttery flavour, and rich caramelized white chocolate, the bites practically melt in your mouth.
This recipe uses caramelized white chocolate, something I have in my pantry all the time now that I know how to make it. It's a bit time consuming, but very simple. And once you have it - you have it. And you never want to run out! Caramelized white chocolate is true white chocolate that has been cooked until the sugars brown, taking on a richer and deeper flavour. Oh man, it's something else! Find out how to make Caramelized White Chocolate
here
, on
Will Cook for Friends
.
8 Cups of Popped Popcorn
1 Cup Peanut Butter (the sugary kraft kind, not natural)
1/2 Cup Butter
250g Caramelized White Chocolate (you can use regular white chocolate or butterscotch chips in a pinch)
Line a baking pan or dish with parchment paper and set aside.
In a saucepan combine peanut butter, caramelized white chocolate, and butter and melt on low heat until mixture is smooth.
In a large bowl add popcorn, and peanut butter mixture. Slowly and carefully combine both until all popcorn is evenly coated.
Pour popcorn into the lined dish and press the mixture down evenly.
Allow to set in the fridge until firm, about three hours.
Pull mixture apart into bite size clumps. And enjoy.