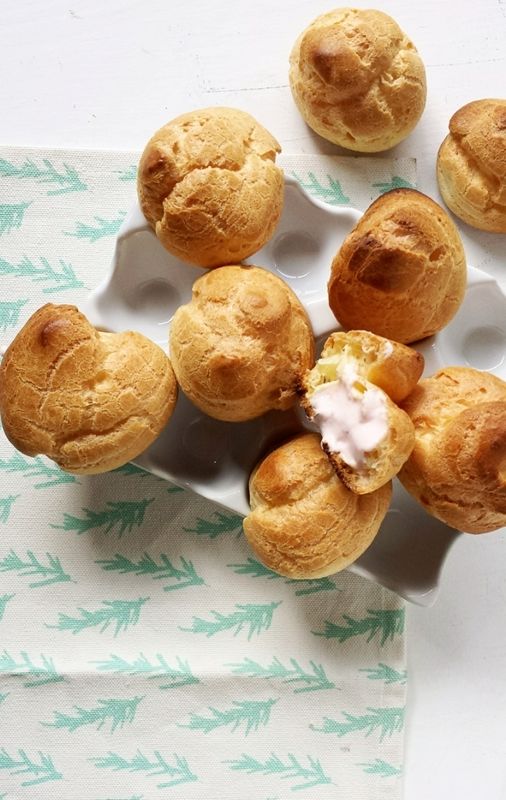 I'm going to share something with you that no one's ever told you before. You may hate me for it. I totally understand. Here it goes, Cream Puffs are ridiculously easy to make. And you have every ingredient you need to make them right now. There, I've said it.
I always thought plump, airy cream puffs were a super labour intensive kitchen endeavour. I imagined spending hours slaving over cold butter, whipping egg whites to create mile-high little hollow mounds. The truth is, that this couldn't be further from the truth. I was uneducated in the puffs department.
Cream Puffs are so simple! Which I think makes them even more delicious, and endearing then ever before! This also means that you have some extra time to inject more creativity into the fillings (see what I did there?). For this batch I went with a light strawberry whipped cream enriched with a healthy dollop of greek yogurt. Totally delicious. Totally worth eating 6 cream puffs in one day.
The only little tip I'd mention in this recipe is to watch the oven temperature adjustments, they're easy to do but easy to forget.
RECIPE & INGREDIENTS
CREAM PUFFS
Makes approx 12 Cream Puffs
-
Puff Recipe from
BakerBettie
1/2 Cup water
1/4 Cup butter
Pinch of Sea Salt
1 Tablespoon of sugar
1/2 Cup all-purpose flour
2 eggs
Start by preheating your oven to 425F and line a baking sheet with parchment paper.
In a small saucepan over medium heat combine butter, water, sugar and salt. Bring to a boil and make sure butter completely melts.
Reduce heat slightly - medium low, and add the flour. Stir until mix forms a paste that holds together, leaving no dough on the sides.
Place dough in a bowl and allow to rest and cool for about 5 minutes.
Add in eggs, one at a time. Stirring vigorously between each egg so that they are fully incorporated. (You could also do with with a stand mixer on medium-low.) Dough should be glossy and silky when it's ready.
Add mixture to a ziplock and snip the corner, or a pastry bag and pipe onto your parchment paper-lined cookie sheet. Create two inch mounds spaced about an inch or so apart. If you end up with any peaks on top of your puffs you can pat them down do they don't burn.
Put puffs in the oven and increase heat to 450F. bake for 10 minutes. Then reduce heat to 350F and continue to bake for 13 more minutes. Shells will be nice and browned (and all blown up!).
Allow the puffs to cool on the counter top before you fill them.
Use a Piping bag with a metal piping tip to pierce and fill each cream puff from the bottom. They hold a surprising amount of whipped cream, so pipe until you feel the whipped cream resisting.
STRAWBERRY WHIPPED CREAM WITH GREEK YOGURT
1 tsp gelatine
4 tsp water
1 Cup heavy whipping cream
1/2 Cup icing sugar
1/4 Cup Greek Yogurt - Plain or Strawberry
4 heaping Tablespoons of pureed fresh, or defrosted frozen strawberries
In a small saucepan combine gelatine and water, allow to thicken. Then over low heat warm the mix until all the gelatine is dissolved. Set aside to cool slightly but don't let it set up.
In the bowl of a stand mixer fitted with a whisk, combine heavy cream and icing sugar, beat on medium speed until slightly thickened. slowly add the gelatine.
Increase speed and whip until the cream forms very still peaks.
Fold in strawberry puree and greek yogurt with a rubber spatula until completely combined.
Pipe into your Cream Puffs.
*The filling can be made a couple days ahead and kept covered in the fridge. It may need to be re-whipped just before piping.