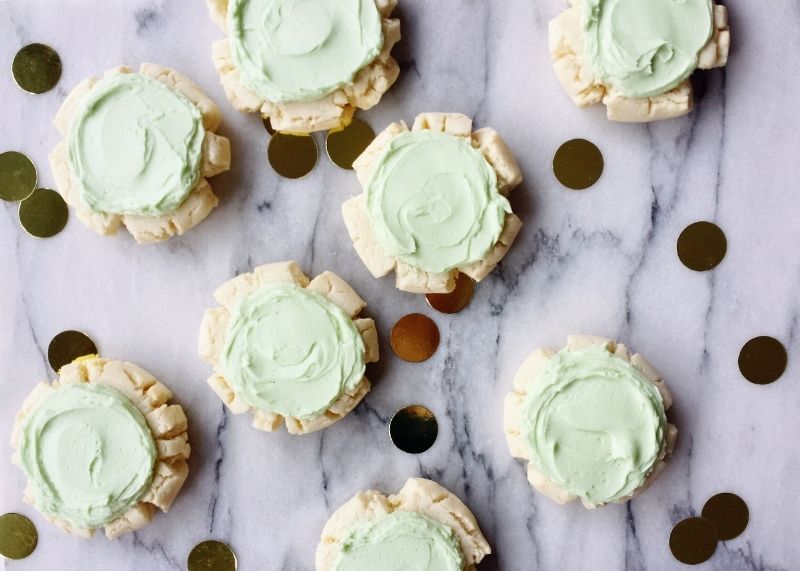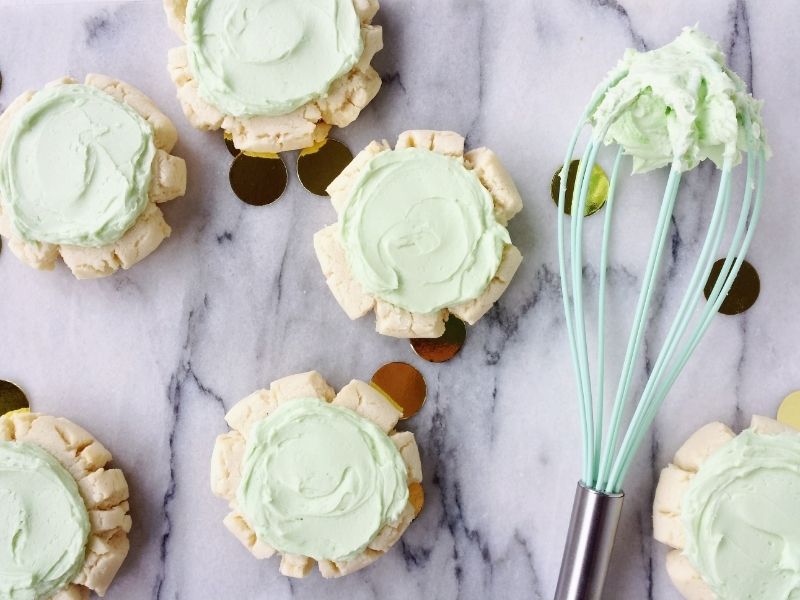 Happy st. Patrick's Day!!! I hope you're having a fun, green day. I hope you're wearing green somewhere, Your shirt? your socks? your nails?
I hope you've already eaten something with green food dye it it, and and soon as you finish that Bailey's and coffee, I hope you're able to go to the nearest pub and get some beer in you. Or you know, maybe just go to work, it is Tuesday after all.
I hope these cookies are part of your St. Paddy's day! They're big plump sugar cookies that are reminiscent of shortbread because of how dense they are and how dry the crumb is. One of these will defiantly satisfy your sweet tooth! And we add buttercream because it is delicious, and green icing is more fun (and appetizing) than green cookies!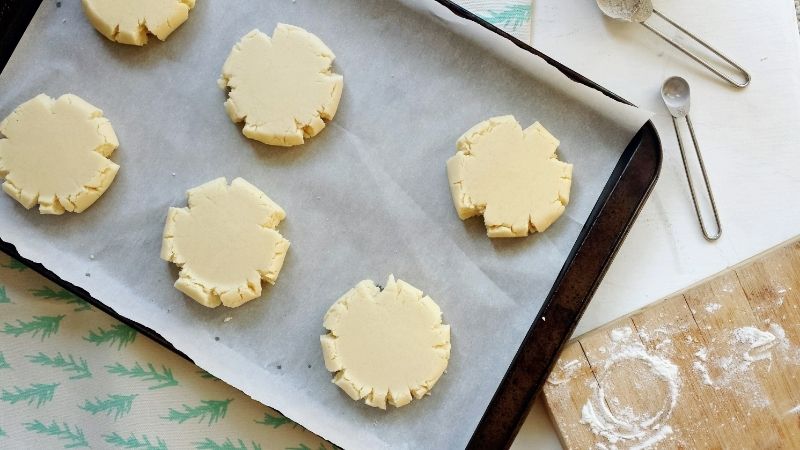 RECIPE & INGREDIENTS
SHORTBREAD SUGAR COOKIES
makes 20 large cookies - inspired by these Swig Sugar Cookies
1 cup Butter, room temperature
3/4 cup + 1 tsp Vegetable oil
1 1/4 cup White Sugar
3/4 cup Icing Sugar
4 tablespoons water
1 Egg
2 tsp Cornstarch
2 tsp Baking powder
1/2 tsp Baking soda
1/2 tsp Cream of tartar
1 tsp Salt
5 Cups White flour
1/2 cup Rice flour
Preheat your oven to 350F and line 2 baking sheets with parchment paper.
In the bowl of a stand mixer cream together butter, vegetable oil, sugar, water, and egg. Mix this until completely smooth, which may take a few minutes.
In a separate, large bowl, combine flours, cornstarch, baking powder, baking soda, and cream of tartar.
With the mixer running on low, slowly add dry ingredients to butter mixture. The dough will get very stiff near the end but just keep going. I had to turn my mixer off and incorporate a bit by hand.
Roll dough into very large 80g balls (for reference, a bit small than a tennis ball? I don't know, as if I play tennis) and place on cookie sheet. Fit about 6 to a cookie sheet as they will spread a little.
Using a flat bottomed mug or measuring cup, flatten each cookie out until it resists. This works great because it will keep every cookie the same thickness and they will all cook perfectly.
Bake for 10-12 minutes until cookies are barely browning on the bottom. You don't want to over-bake as they will be too crumbly.
Let stand for 5 minutes then move to a cooling rack. Frost when cool.
*Rice flour is what gives these cookies such a shortbread consistency, it really dries out the dough, leaving you with a firmer cookie!
1 cup Salted butter, room temperature
4 cups Icing sugar
1/2 tablespoon Vanilla extract
2 tablespoons Heavy cream
10-12 drops green food colouring (optional)
In the bowl on a stand mixer cream butter on medium-low speed until butter is completely smooth and creamy, this may take up to 3 or 4 minutes. Stop mixer and scrape down sides and paddle if you need to.
Add the vanilla extract and mix until incorporated.
Add 2 cups of the Icing sugar, mixing each cup until fully incorporated before adding the next. You may need to stop the mixer and scrape the bowl.
Add the heavy cream and mix until incorporated.
Add the last 2 cups of icing sugar, mixing each cup until incorporated before adding the next.
Add the food colouring and mix until the icing is all one shade of green.