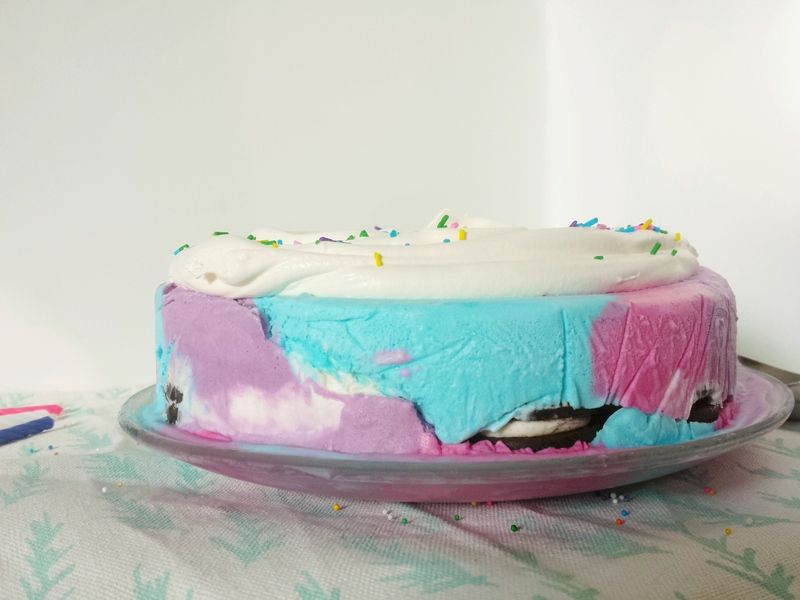 I am not a big fan of the average Dairy Queen Ice Cream Cake. The eerily sweet neon blue icing, gel food colouring in the shape of some creepy cat, or a soccer ball, and that love it or hate it (hate) fudgy bit in the middle. No thanks.
I remember as a kid, at friend's birthday parties, eating soo much ice cream cake. We'd joke, making crazy faces as we ate the "rabbit turds" in the middle of the vanilla and chocolate slabs. Sorry for the mental image. Every kid did that, right? I guess that memory still plagues my mind.
My sister's both love DQ cakes. And they're birthdays are only about a week apart. One yesterday. One last week. I've been having cake for what seems like forever! I think that's why I'm getting so up in arms. Tough times, I know.
When someone has a favourite food you have to deliver on their birthday... Cotton candy ice cream is a favourite for a friend of ours and what better way to present it than as the whole birthday cake! SURPRISE!
This is an ice cream cake I could get used to! Heck, I'm way into it!


Super-sweet cotton candy ice cream, creamy vanilla, and a whole layer of Oreos (!!!). Top it off with a mountain of whipped cream (or cool whip in a Pinch, shhhh). It's nothing but layers of frozen deliciousness; flavours curated by you!
This whole cake comes together 10x faster than a baked cake. Just freeze and forget about it! Go for a run, watch a movie, buy a birthday present, then it's finished!
Not to mention you can customize this cake to your little ice-creamy-heart's content!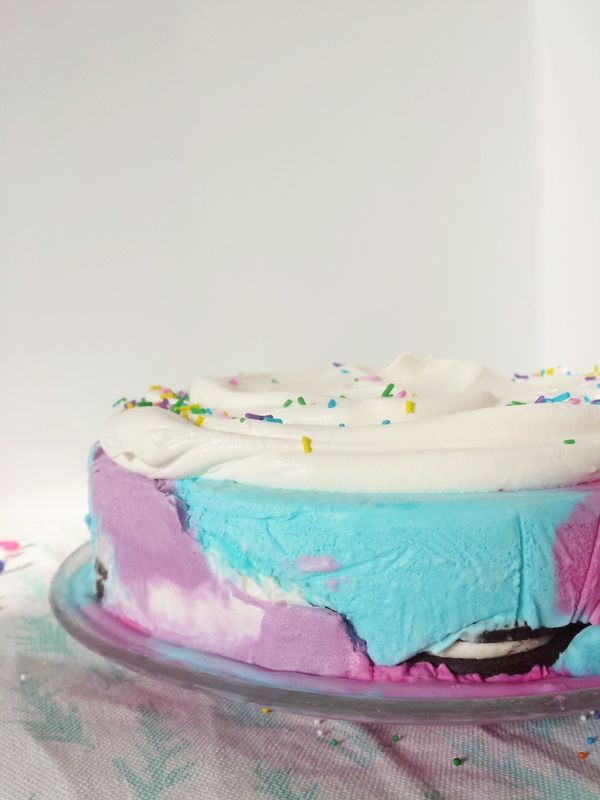 1 pint of cotton candy (or other) ice cream**
1 pint of vanilla (or other) ice cream
12-18 Oreo (or other) cookies
2 cups of prepared whipped cream or whipped topping
Line the bottom and sides of a tall, round 8" cake pan with a layer of saran wrap.
Begin with your first layer of ice cream, smooth it out along the bottom of the pan, Leaving no gaps.
Then add another layer of a different ice cream.
Lay the Oreo cookies down flat as the next layer.
Cover the cookies with another layer of ice cream.
You may continue layering until you reach the top of your cake pan.
Cover top with saran wrap.
Freeze for at least 8 hours.
When ready to de-pan your cake: remove top layer of saran, place a cake plate over top of it and quickly flip! Inverting your cake. Refreeze for an hour or so just to be sure before icing.
Top with whipping cream and sprinkles.
Freeze until ready to serve!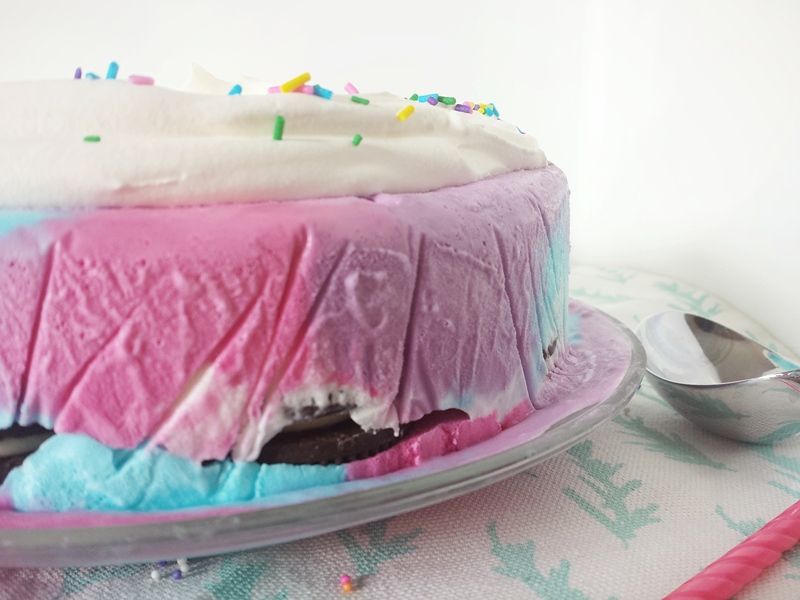 ** Ice Creams with lower sugar and dye contents (chocolate, chocolate chip mint, vanilla, coffee, etc) tend to freeze and harden better. If you're worried about this cake firming up properly stick to lower-sugar flavours (just check the NFT), or at least use a stiffer flavour for the base of your cake. You can see my Cotton Candy pooling after only a minute or two.