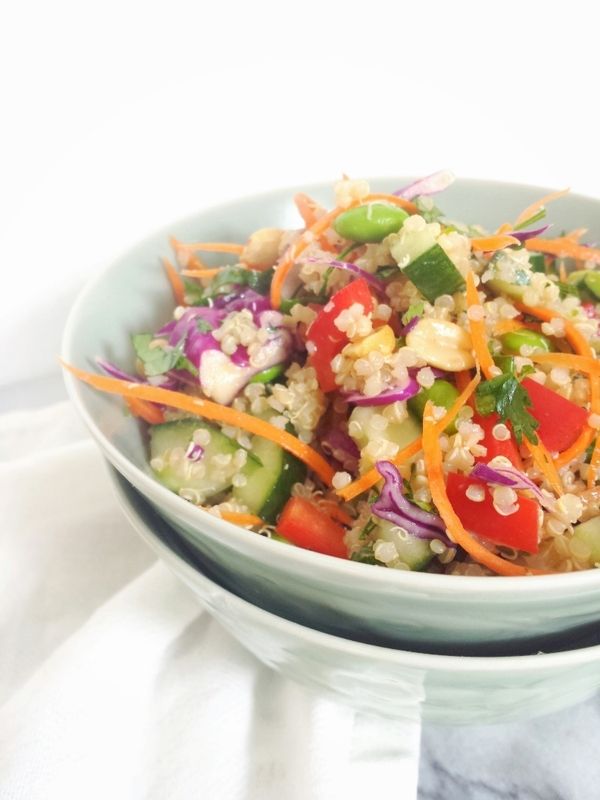 I've got a thing for salads with lots of substance.
I'm talking about German potato salad full of fresh parsley, dill, and cracked pepper; tortellini salad mounding with chives, grated Parmesan and sunflower seeds; or purple cabbage slaw spotted with bright cilantro and carrots. The more colour the better in my salads! Mitch calls these hearty salads "cold salads", which is a particularly broad title considering all salads are served cold.
This quinoa salad is right up my alley! There's lots of fresh herbs, a super light dressing full of flavour, and it's packed with veggies I love! It's bright tasting, refreshing and perfect for dinner during the summer - the less I have to turn on the oven in my stuffy apartment for anything other than chocolate chip cookies, the better! And it's pretty easy on the eyes too, hey? Bright salads are so pretty.
I changed the dressing a bit, and adjusted a couple of the ingredients to suit my pantry. Give it a try!
RECIPE & INGREDIENTS
1 Cup of dry quinoa
1 red bell pepper, diced
1 carrot, shredded
1 small cucumber, seeds removed, chopped
3/4 cup shelled edamame
1 green onion, chopped
1 cup shredded red cabbage
1/2 cup chopped peanuts
1/2 cup chopped cilantro
1/4 cup chopped basil
6 Tbsp lime juice
1 Tbsp white sugar
1 Tbsp water
1/2 Tbsp vegetable oil
1 Tsp sesame oil
1 Tbsp freshly grated ginger
2 Tsp light soy sauce
2 Tsp rice vinegar
Cook the Quinoa, and allow it to cool (a great method for cooking quinoa can be found on
the kitchn
).
While the quinoa is cooking and cooling, prep all your veggies.
Mix all the dressing ingredients together in a small bowl.
Toss veggies and quinoa, and stir in the dressing. Toss until everything is nicely coated.
Keep refrigerated until ready to serve.