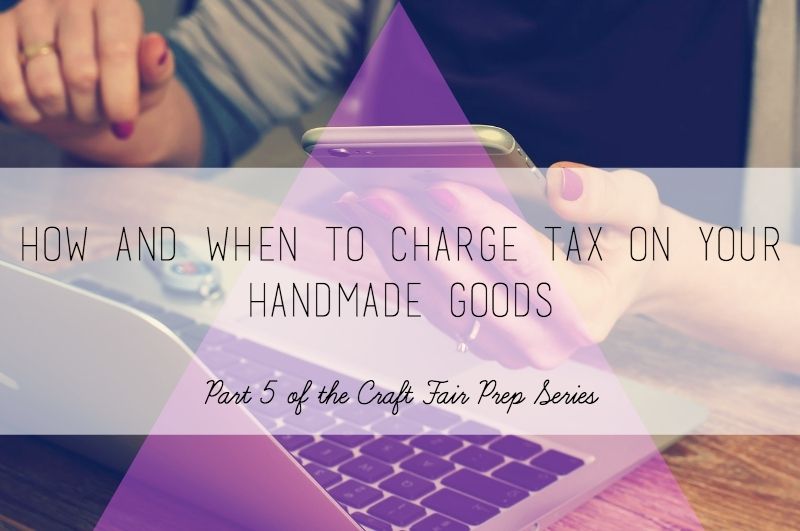 I had a good long chat yesterday with my day-job manager about "my little weave business" (as my co-workers call it). She let me know all about income tax, business deductions, expenses, and charging tax in a small business (I know, scary accounting and overwhelming information much?). Considering she's owned a few of her own businesses in the past, (including selling ornaments at christmas craft fairs for years,) and helps do the books for her husbands current business, I knew I was getting some awesome insight. And I have to say, I finally feel like I have a small grasp on how the financial side of this creative business should work. I'm not well versed or anything, but I can safely say I understand the importance of keeping every single receipt and how it may actually benefit me come tax season.
Getting into selling handmade goods, my biggest concern was that I didn't know if I needing to be charging tax; At craft fairs, on Etsy, wholesale, whatever. And if I do need to charge it, do I include it in the price, or add it at the till like a "real" business? Will the government come find me in three years if I don't collect tax on my products? Could I go to jail!? These are real fears people!
All this craft fair prep got me thinking, should I be charging tax on my Etsy sales right now? Am I already doing something wrong?
After my super-informative chat, and a lot of research via the
Canada Revenue Agency's website
I'm relieved to find the answer to my
taxing questions
(don't hate me) to be very simple! That answer is
DON'T WORRY ABOUT IT (FOR A GOOD LONG WHILE)
I'm going to break this down so it's obvious as to whether you need to collecting tax (GST/HST) on your handmade goods as a small business in Canada:
Please note that all the information in this post pertains to small Canadian Business. Make sure you are aware of the processes in your own Country
If your business's world-wide revenues exceed $30,000 in the current calendar quarter from sales that could be taxed, you need to collect GST/HST.
Even simpler: If you make more than $30,000 a year from your business, you need to be charging tax on your products.

Now I would assume anyone who actually makes $30,000 or more a year from their little makers studio knows what they're doing by now and has this business thing all figured out... but I don't want to assume.
Now, let's take what we just chatted about above and really get into it:
If you are collecting tax from your customers you must do this by first becoming a GST/HST registrant (this means you have a GST/HST number, which is displayed on receipts you issue to your customers.)
By being a GST/HST registrant you agree to collect tax on the taxable goods or services you sell, and pass these tax earnings onto the government. The amount of tax you collect for the government may cover the amount of tax you owe or payed on your business expenses.
Any Business owner is actually able to become a GST/HST registrant, even if you aren't required to do so. There are benefits to registering, but I'll let you look into those yourself. This post is just focusing on what's required of a small business owner.
If your world-wide sales do not exceed $30,000 in the current calendar quarter, in accumulation with the prior three calendar quarters, you are considered a
small supplier
, and do not need to collect GST/HST from your customers.
Now I was still a bit confused at this point.
What does a calendar quarter look like? Is this just any 90 day period? Can this be any three month stint? Do the quarters start in January or can they start at the beginning of any month, What if I opened my business in May, or August?
The Canada Revenue Agency gets right into this and explains it very well.
A Calendar Quarter is three consecutive months. A calendar quarter must end on the last day of March, June, September, or December.
So... The 4 Calendar Quarters are
JANUARY 1- MARCH 31
APRIL 1- JUNE 30
JULY 1- SEPTEMBER 30
OCTOBER 1- DECEMBER 31
This means:
SEPTEMBER 1 - NOVEMBER 30 is not a calendar quarter
JANUARY 5 - MARCH 5 is not a calendar quarter
If your sales do exceed $30,000 within the current calendar quarter, you have 30 days from the sale to apply for a HST/GST registration number.
This makes sense right? Lets do some good old fashioned Case Studies, just in case
SMALL SUPPLIER: Minnie's Mitten Shop 2015
Minnie started her mitten selling business in January 2015. She's viewed it as a success so far. Making the odd sale to supplement her full-time job. Her quarterly sales so far have been as follows

JAN - MAR : $100
APR - JUN : $400
JUL - SEPT: $400

Unless Minnie miraculously makes $29, 000 in sales in OCT - DEC (hey she could, it's peak mitten season!) she doesn't have to worry about becoming a GST/HST registrant.
So what happens if we look into Minnie's future a little bit...
SMALL SUPPLIER: Minnie's Mitten Shop 2017
Minnie's mitten business has been booming, She's managed to get her mitts featured in some fashion magazines and , whoo hoo! Her sales have dramatically improved from her first year

JAN - MAR : $16, 000
APR - JUN : $9, 000
JUL - SEPT: $3, 000
OCT - DEC: 19, 000

Come this fourth quarter, Minnie's made $47, 000 in sales (Way to go Minnie!) Minnie is no longer considered a small supplier and has to 30 days to apply for a GST/HST registration number and must start collecting taxes on her future sales.
But what if a small supplier made that money faster than within four quarters? There's a bit of an exception here.
SMALL SUPPLIER: Penelope's Poncho shop 2015
Penelope knits ponchos, and a lot of them! She started her business this July and her styles caught the eyes of some department store buyers, they want her products in their stores this winter!

JUL - SEPT : $12, 000
OCT - DEC : $33, 000

Because Penelope exceed the $30, 000 limit within one quarter she will need to charge tax on the sale that put her over the maximum, whether she is registered or not. She then has 30 days after that sale to register.
So! From all this I can safely say I will not have to worry about charging tax on my little weaves for quite some time! I hope you found this post helpful! Small business can be a bit intimidating sometimes most of the time. And finding the right information can be really difficult! But #makersgonnnamake!
Some other helpful resources for you may be:
Obviously, I don't know everything about small business taxing, heck I only leaned all this within the week! I highly suggest doing some more research of your own until you feel confident with your knowledge on the finances and taxing bits and bobs behind your little business.
My Craft Fair Prep List
pay table/booth fee
brainstorm/come up with a table design
organize all my supplies
create lots of inventory
make a budget tracker
research taxes, what do I need to do?
know what I'll be charging
have business cards made
buy a table
create my craft fair business kit
make price tags
make/buy merchandisers, table and props
get a square/mobile POS
acquire a cash box/apron and float money
find a helper for the big day
set up a mock table display
promote! social media & local posters