Business cards are an important piece of marketing yourself. As an Etsy seller, I include a business card in every order I ship out. I also carry them around in my bag so if my shop comes up in conversation, I'm able to hand over a business card. As an etsy seller, if you're looking to start doing local consignment or wholesale orders you'll need a business card to leave with these shops. And if you attend craft fairs you'll defiantly need cards to distribute at your events.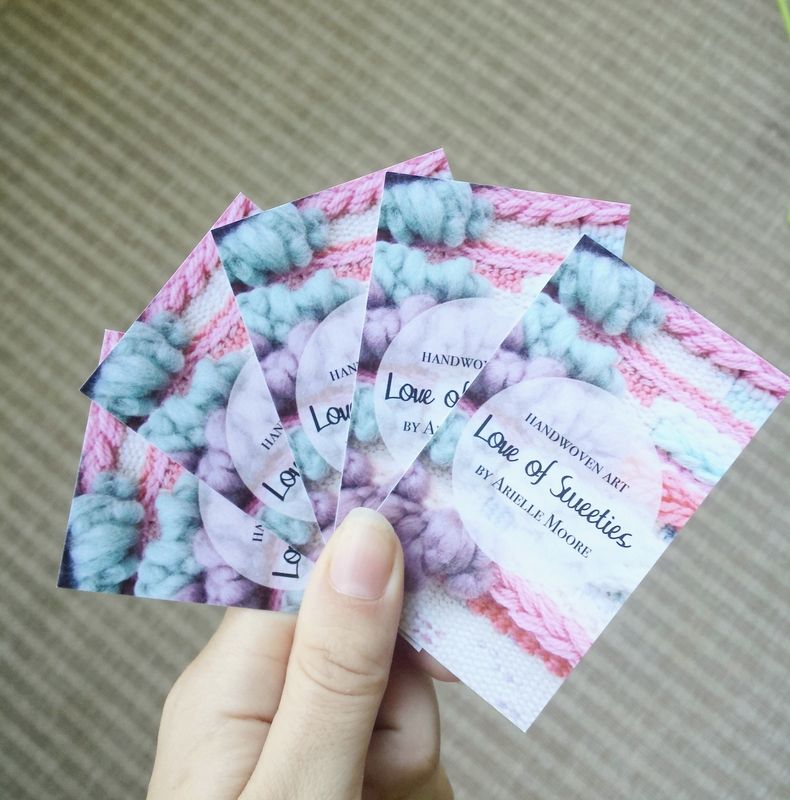 In this tutorial I'll walk you through the necessary steps to start designing your own business cards!
If you're pretty comfortable in photoshop, then you can just use the psd. template I've created and go from there! But if you want a bit more guidance, then keep reading the tutorial.
Obviously your business card won't be identical to mine. This tutorial is to help guide you through the steps you'll need to take to create your own card!
1. DOWNLOAD MY BUSINESS CARD TEMPLATE
This template starts you off with the perfect parameters, DPI, image size, and colour to get your cards from screen to paper perfectly.
2. OPEN THIS FILE IN PHOTOSHOP
You will notice there are lines crossing through all four sides of the blank image. These help account for the "bleed" of the card. Meaning it will ensure any portion that may get cut off in printing, or any roughening up from wear will not be an issue. It's important to keep any text on your card inside these guides. It also helps keep the card ascetically pleasing. For those curious, the template is 1140 x 690 pixels, CMYK colour and 16 bit/channel. These are the best file choices for printing.
You will also notice there are two folders in the layers box. A FRONT and a BACK. These separate either side of your card. Depending on which side of the card we're working on, we'll turn the other folder invisible. By keeping the layers we create inside these folders, we'll be able to switch back and forth between front and back super-easily. If you don't want a backside to your business card, just delete the BACK folder.
3. START ADDING IN YOUR GRAPHICS
Create a new layer in the front folder. Bring in whatever graphics you want to feature on your card! I'm going to use a photo of one of my weavings as the background for the front of my card.
FILE > OPEN or PASTE the images you want to use.
To resize an image select the MARQUEE toll from the tool box > select your image layer > right click > FREE TRANSFORM - using the corner anchors, you can resize your image to whatever you like, without losing its dimensions. Now drag them where you want them on the front of your card.
Because I want the front of my card to be vertical I've also rotated the canvas. IMAGE > IMAGE ROTATION > 90 degress CW
4. ADD YOUR TEXT
Using the TYPE tool, add in any text you want on your card. I need to include the name of my business, and my own name on this card. Be sure to use a font on your business cards that consistent with your branding.
I also want my text to be in the very middle of my card. To do this I will be using the align buttons. SELECT LAYER > CLICK MOVE TOOL > COMMAND/CTL A > CLICK ALIGN VERTICAL CENTRES > CLICK ALIGN HORIZONTAL CENTRES This ensures the layers are dead centre without you having to tediously move them inch by inch.
5. ADDING SHAPES
I want my text to stand out better against the very colourful background that I've created. I'll be putting the text inside a circle. I like the simplicity and effectiveness it has. I don't want too much else going on because of the texture in my image. I will also drop the opacity of this circle so just some of the colour shows though.
from the tools bar: CLICK RECTANGLE TOOL > CHOOSE THE ELLIPSE TOOL > CHOOSE YOUR FOREGROUND COLOUR (I chose pale pink) > HOLD THE SHIFT KEY and DRAG YOUR SHAPE TO THE DESIRED SIZE (holding shift ensures you get a perfect circle and not an oval.)
Now were going to position the circle in the middle of the card, just like the text. Use the same steps as above to do this. If you need to move your layers around to get all your text in front of your shape you can do this by dragging each layer to the order you want in the LAYERS WINDOW.
To drop the opacity of this circle SELECT THE SHAPE LAYER > ADJUST OPACITY - I went with 70%
6. BACK OF THE CARD
Deselect the eyeball icon next to the front folder. This makes everything you've just done invisible so we can work on the back without distractions.
The back of the card is where I list all my actual information as the front only has my name.
Start by creating a text layer using the TYPE tool. Choose a font that matches the front of your card.
Include all the info you want. I chose to include my etsy shop, blog, and email. I figured all these contact points were equally important for promoting myself. Align these fields wherever you see fit.
As you can see, I also rotated my canvas back to a horizontal view for the back of the card. you can do this without fear of messing up the front.
7. INCLUDE YOUR SOCIAL MEDIA
Social media is super important when it comes to real world promotion! As a consumer, I probably won't be adding your portfolio to my bookmarks, or putting your phone number in my contacts but I wouldn't hesitate to like you on Facebook, or follow you on instagram!
By adding my Social media contacts I've also double the amount of ways to get in touch with me on my business card!
Social media icon sets are easy to download online, the ones I used are from
Carrie Loves Design
. The size can be adjusted just as we did the graphics on the front of the card if need be.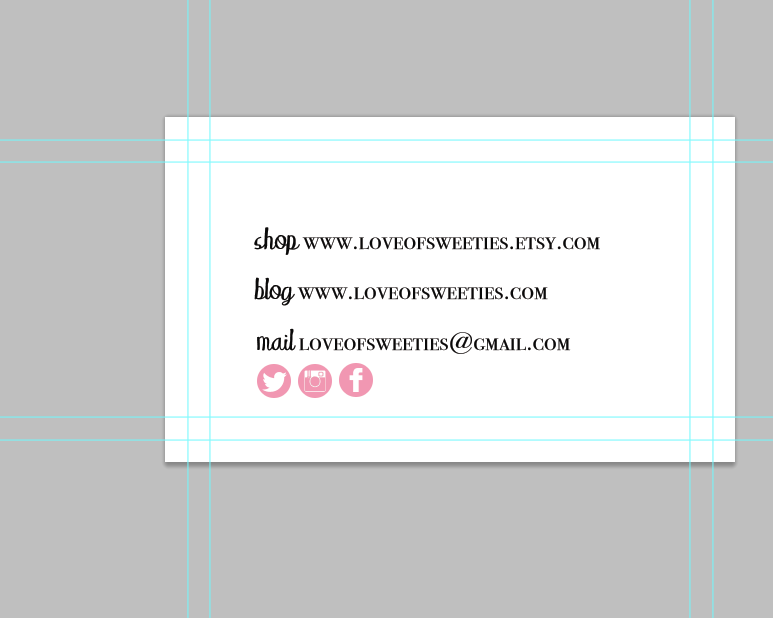 Because my name on all my social media is just "loveofsweeties" I didn't feel it was necessary to include that piece on my card. In this case, the buttons are enough.
8. STYLIZE
You can defiantly leave you card simple like this, depending on your style, it may be preferred. I wanted to match my branding more!
I also added some pink poka-dots to mimic the social media bubbles. I used the shape tool, just like before. By creating the circle over the bubble I was able to replicate the size. I then duplicated the shape a few times RIGHT CLICK ON THE LAYER > DUPLICATE LAYER, and lowered the opacity on each one for a faded effect.
To get the bubbles all aligned, I put the shapes roughly where I want them: CLICK ON THE BOTTOM LAYER > SHIFT CLICK the TOP LAYER so all the layers you want to adjust are selected, then click ALIGN VERTICAL CENTERS. This will put all your circles in a perfect line. While keeping all the layers together, use the MOVE tool to move them where you want as one unit.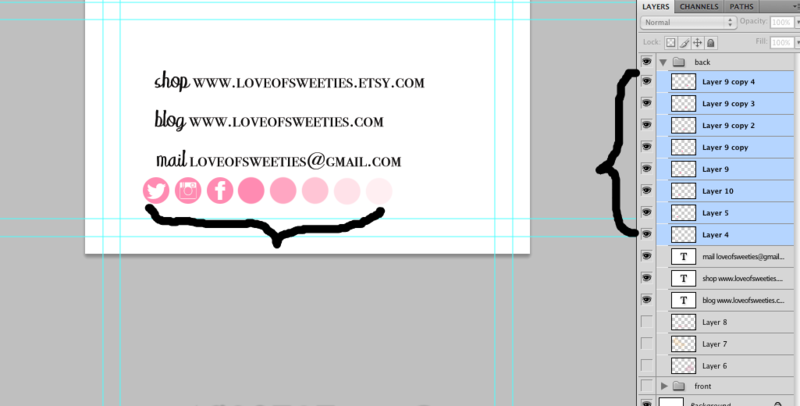 I added colour splashes using the brush tool - these water-colour strokes keep my card cohesive with the rest of my brand. I have colour splashes on my thank you cards, on my blog title, and in my instagram shop updates.
9. SAVING
Let's save the back first. Make sure the back of your card looks just perfect then FILE > SAVE AS...
name your file business card "back" or whatever you want to call it. Save the file as a TIFF > SELECT DISCARD LAYERS AND SAVE A COPY or else your file will be huge. Done saving the back.
Click the eye on the back folder and click the eye on the front folder so you're left with the front of your card, and do the same thing again.
Don't forget to save a PSD of your business card as well so you can tweak it whenever you want.
You should now have 3 files for your business card saved, the front TIFF file, the back TIFF file, and the master PSD file!
Take your files to a printer like Staples Business depot and go get yourself some business cards!